Solar power plant shares for companies
The power plant share is the easiest way to utilize 100% renewable solar energy without equipment purchases. It is also a great way to support the production of renewable energy.
Easy way to utilise solar energy
The acquisition of a power plant share is particularly suitable in a situation where a company wants to take part in the utilisation of solar energy but, for example, for technical reasons the roof of the company building is not suitable for solar power.
Helen currently has its own solar power plants in Suvilahti, Kivikko and Pasila. In the Power Plant Share service, we reserve a specified number of solar panels for your company, and the solar power generated by these panels will be refunded on the electricity bills.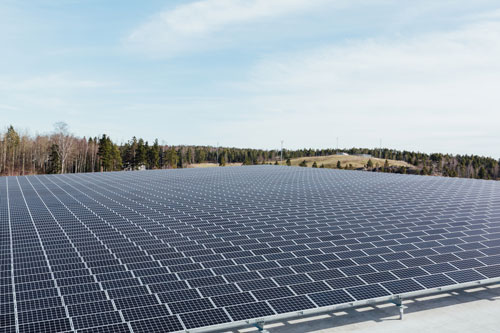 Find out about our other solutions
Solar power plant as a service
A solar power plant owned by Helen is implemented at your property.
Easy to set up without investment.
No maintenance charges.
You only pay for the electricity generated by the power plant.
Helen buys the surplus solar power generated by the plant.
Own solar power plant
We implement in your property a solar power plant owned by your company.
The plant's production reduces the amount of electricity purchased from the network.
You company saves in the electricity distribution fees and electricity tax.
Also available with financing without a large initial investment.
Electricity production of solar panels in Finland
Below you can see an estimate of the production of solar panels in Finland. The production of your panel will be highest in summer months.
| | Production of solar panels (%) |
| --- | --- |
| January | 0 |
| February | 1 |
| March | 6 |
| April | 12 |
| May | 20 |
| June | 19 |
| July | 18 |
| August | 13 |
| September | 8 |
| October | 3 |
| November | 1 |
| December | 0 |