Our customer service is temporarily overloaded and at times we are unable to accept new phone calls if all places in queues are occupied. Read more
Alppila chimney stack
The 35-metre chimney stack of the Alppila heating plant is turned into an illuminated meter displaying the city's consumption of thermal energy.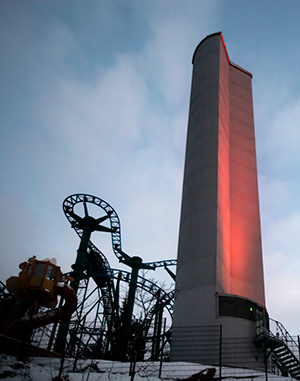 Colour of the chimney stack displays the city's energy consumption
The colour of the illumination will change in line with the city's district heat consumption using a nine-step scale. When the district heat consumption is high, the colour is red and, correspondingly, low consumption is shown as green colour.
Commissioned in 1965, Alppila is our oldest heating plant. The plant acts as a peak-load and reserve heating plant for district heat, contributing to undisturbed delivery of district heat also in extremely cold weather.