Our customer service is temporarily overloaded and at times we are unable to accept new phone calls if all places in queues are occupied. Read more
Antti's Footsteps
About 60 metres high, the landscape towers have been named 'Antti's Footsteps' according to their designer, Professor Antti Nurmesniemi.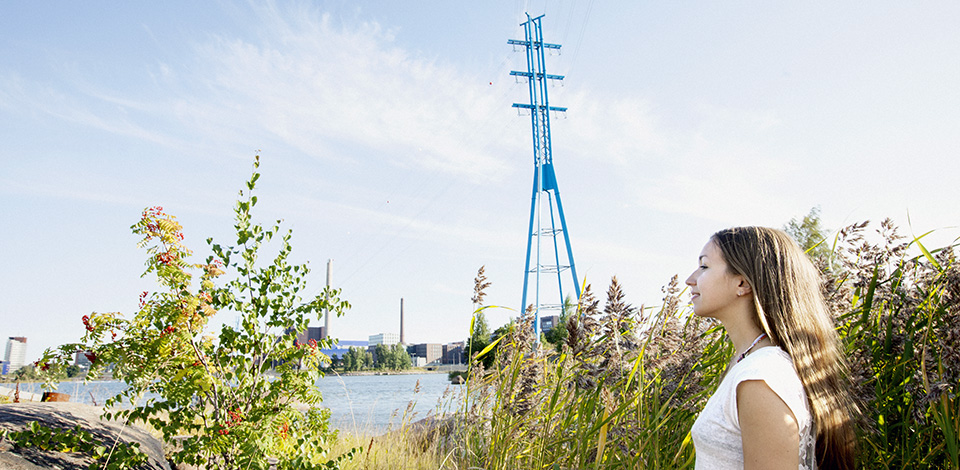 Oldest power line in Helsinki runs over the sea
The power line between the substations in Salmisaari and Meilahti in Helsinki, including its pylons, was replaced in 2003. The replacement of the oldest power line in Helsinki, completed in 1951, became necessary in order to improve the security of electricity supply in the southwestern and central parts of the city. At the same time, the electricity transmission capacity was increased to better meet the growing electricity consumption in Helsinki.
Landscape towers to replace lattice towers
Electricity pylons representing the latest industrial design were erected along the transmission line that travels across the sea area in front of Töölö. These deviate from the old lattice towers in terms of their design and colour. The new towers were designed by Professor Antti Nurmesniemi.
The plan for the new towers off the shore of Töölö was required due to their key location. The objective was to find a new kind of tower to replace the traditional lattice towers and to adapt to the current townscape as a representative of its own era. A total of nine towers were replaced along the transmission line. Of these, five towers on the sea area are new kinds of landscape towers and the rest follow the traditional model.
Overhead line system offers a cheaper alternative to cabling
Overhead lines are used in the power transmission line between Salmisaari and Meilahti because they have a multiple transmission capacity compared with cabling. Using overhead lines is also three times cheaper than cabling. Cabling of a line travelling across a sea area would require a separate tunnel excavated in the rock, so that the key line in terms of Helsinki's electricity distribution would be sufficiently protected and that it can be maintained rapidly and with a low cost.