Sustainability report
In our sustainability report you can find the most important highlights of our sustainability. We publish a new report every year in March.
Sustanability report 2021
The sustainability report describes sustainability in the entire Helen Group, as well as its management and key events during 2021.
Our report is based on the core level of the GRI framework of the international Global Reporting Initiative.
The contents of the report are based on the materiality analysis updated in 2021 and on the sustainability programme. The sustainability programme is based on the key themes in terms of Helen's key impacts, stakeholder expectations and business targets.
Sustainability management
The management of our sustainability issues is based on Helen's strategy and values, its corporate governance, and the Group's sustainability policy and code of conduct.
As sustainability is a key part of our strategy, the Helen Group's Board of Directors has the ultimate decision-making authority in sustainability issues. Our sustainability work is coordinated by the Sustainability and Public Affairs team. Practical sustainability work is carried out in the everyday work of all the business areas.
Our targets related to the environment and sustainability are part of the shared set of indicators on strategic management and the performance bonus system for the personnel and the management. We monitor the implementation of the targets on a monthly basis in Helen's Management Group and in the management groups of the business areas. The Board of Directors of Helen Ltd monitors especially the strategically important occupational health and safety issues and the development of our target on carbon neutrality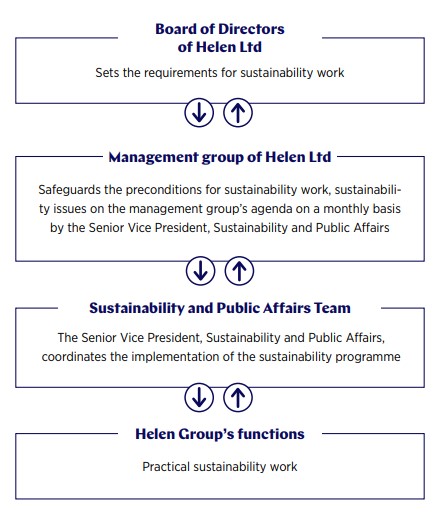 Key sustainability themes
In May 2021, we implemented a stakeholder dialogue as an online survey open to all. We received a total of 481 responses. The highest number of responses came from our customers (36%), employees (30%) and Helsinki residents (13%).
The respondents agreed that phasing out the use of coal and the active development of renewable alternatives are the most important issues in the development of Helen's sustainability.
According to our stakeholders, the most important measures to support phasing out the use of coal are the utilisation of waste heat and the storage of energy
We built a sustainability programme for 2022–2024 on the basis of the materiality analysis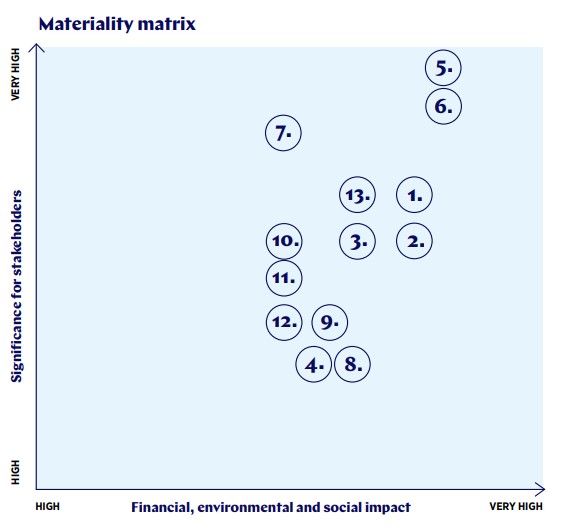 Life cycle of products and services
1. Development of new low-carbon solutions
2. Security of supply
3. Customer experience
4. Supply chain sustainability
Carbon-neutral energy system
5. Carbon-neutral production, products and services
6. Investments in carbon-neutral production
Openness and transparency
7. Interaction, cooperation and transparency
8. Responsible leadership and reporting
Responsible employer
9. Employee experience
10. Occupational health and wellbeing
Biodiversity
11. Hydropower and fish passage
12. Minimising local emissions
13. Sustainability of bioenergy
We create value responsibly
We create value for our customers and for society, as well as for our owner, the City of Helsinki. By utilising capital in an efficient and responsible way, we offer competitive energy and a good digitalising customer experience and support our customers in energy efficiency and meeting the carbon neutrality targets.
Employees
1,015 energy professionals
Energy sources
Coal
Biomass
Natural gas
Water
Sun
Wind
Geothermal heat
Uranium
Waste heat
Economical
Investmeents in carbon-neutral energy EUR 184 mill.
Total purchases EUR 985 mill.
Balance sheet EUR 3,115 mill.
Infrastructure
Power plants and heating plants
Electricity netrwork
District heating network
Cooling network
Energy storage
Partner network
Fuel suppliers, contractors and service providers
Cooperation and joint development with project partners and growth companies
Intellectual capital
Strong brand
Active product development
Certified environmental and safety systems
Corporate culture
We will be a carbon-neutral energy company in 2030.
Strategy
Bolder and more agile
Higher return
Strenghtening the solution business
Towards carbon-neutral energy
Values
World-class expertise
From people to people
Champions of cooperation
Make it happen
Customers
More than 550,000 customers
Customer experience (EPSI rating)
Average outage time/customer: electricity 4.7 min, district heat 2.54 h, cooling 1.79 h
Security of supply: 99,9991 %
Financial impacts
Turnover: EUR 1,318 mill.
Operating profit: EUR 82 mill.
Total wages and salaries paid EUR 64.1 mill.
Taxes paid: EUR 155 mill.
Social impacts
Lost-time incident frequency
eNPS and employee engagement
Supporting the start-up network
Social influencing in the energy transition
Products and services
Produced electricity 5,834 GWh
Distributed electricity 4,473 GWh
District heat 7,490 GWh
Cooling 200 GWh
E-mobility
Sun and wind
New solutions
Smart real estate
Environmental impacts
CO2 emissions
Direct emissions from own production (Scope 1) total 2.78 mill. tCO2
Specific emissions 284 CO2 eqv./kWh
Share of carbon-neutral energy: 32 %