Responsibility
Climate neutral energy
Our long-term target is to produce energy in a climate-neutral way in 2050.

Climate neutral energy production means production that does not increase the levels of carbon dioxide in the atmosphere and therefore does not add to global warming. A short-term target is to increase the share of renewable energy in energy procurement to 20 per cent. We will reach this target in mid-2020s when we will replace the Hanasaari power plant with renewable energy.
SHARE OF COAL AND RENEWABLES INCREASED
We produce energy mainly in our own power plants and heating plants throughout Helsinki. We also supplement this with production from outside the Helsinki region.
In 2016, we produced 6,500 GWh of electricity, 7,100 GWh of district heat and 140 GWh of district cooling.
Origin of district heat, GWh
| | | | | | |
| --- | --- | --- | --- | --- | --- |
| | Natural gas | Coal | Heat pump | Bio | Oil |
| 2012 | 3690 | 3190 | 300 | 0 | 170 |
| 2013 | 3420 | 3140 | 290 | 0 | 110 |
| 2014 | 3290 | 3080 | 380 | 0 | 140 |
| 2015 | 3380 | 2550 | 420 | 20 | 50 |
| 2016 | 2190 | 4150 | 490 | 100 | 170 |
Origin of electricity, GWh
| | | | | |
| --- | --- | --- | --- | --- |
| | Natural gas | Coal | Nuclear power | Renewables |
| 2012 | 3630 | 1520 | 1390 | 610 |
| 2013 | 3570 | 1500 | 1440 | 740 |
| 2014 | 3240 | 1530 | 1470 | 780 |
| 2015 | 3460 | 1240 | 1390 | 890 |
| 2016 | 1950 | 2090 | 1460 | 960 |
See specific emissions and origin of the electricity, heat and cooling sold by us.
In 2016, the amount of energy we produced by coal and wood pellets increased and, correspondingly, the share of natural gas production decreased. This is due to changes in the energy market, which have resulted in higher profitability of energy produced with coal.
The use of heat pumps also grew. We produced more district heat with heat pumps than ever before, 490 gigawatt-hours.
We increased renewable energy production at the Hanasaari and Salmisaari power plants. Continuous mixed combustion of wood pellets in the Hanasaari power plant started at the beginning of 2016. The use of pellets as a fuel was implemented at Hanasaari as planned. Corresponding equipment at the Salmisaari power plant was commissioned already in 2015 but, due to problems at the power plant, we were unable to burn pellets at Salmisaari according to the original plans.
In 2016, our pellet combustion totalled 38,000 tonnes, corresponding to 180 gigawatt-hours of energy. The amount of pellet we use has clearly risen, as in 2015 we burned 5,800 tonnes of pellets. We continue to increase the use of pellets in energy production in 2017.
We are also increasing solar energy production. Finland's largest solar power plant in Kivikko was completed in spring 2016. The Kivikko solar power plant and the previously completed Suvilahti solar power plant operated according to expectations, generating a total of 910 megawatt-hours of electricity in 2016.
We continued solar heat recovery from properties with the aid of district cooling. With district cooling, we recycle and reuse heat produced by the sun, machines and equipment, and people.
MORE RENEWABLE ENERGY IN THE FUTURE
The most significant strategic policy with respect to the development of Helen's energy production structure is our long-term target of climate neutrality by the year 2050. Guidelines have also been set for Helen in the decision of the Helsinki City Council in December 2015 to decommission the Hanasaari power plant in 2024 and to replace its production with renewable energy. The national climate and energy strategy and the EU energy policy also have an impact on our operations.
We aim to make progressive investments to reduce emissions and increase renewable energy and to make use of all the opportunities offered by new technologies. New energy production solutions are also developed together with customers.
During 2016, we continued the planning of our extensive investment programme. In the first stage, Finland's largest pellet heating plant will be built in Salmisaari to replace oil, coal and natural gas use. The heating plant's output will be about 100 MW and it will be inaugurated in 2018. The investment will reduce carbon dioxide emissions by about 58,000 tonnes per year.
We also decided to build a large heating and cooling plant in the cooling centre located under the Esplanade Park in Helsinki. Its production use will start in spring 2018. The investment will include two industrial-scale heat pumps producing cooling and heat. They will increase the cooling output of the Esplanade cooling centre to a total of 50 megawatts. The heating input will be 22 megawatts. The investment will reduce Helen's carbon dioxide emissions by an estimated 20,000 tonnes per year.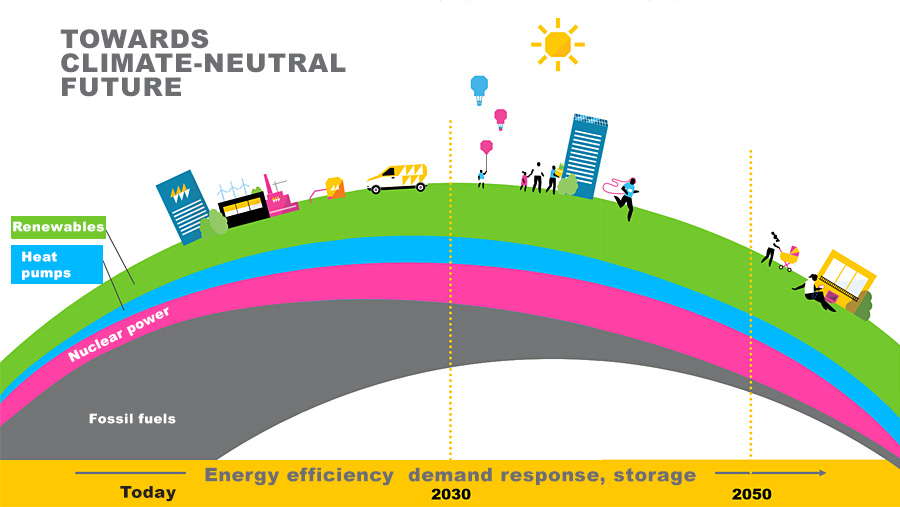 TRYING OUT NEW SOLUTIONS
The energy system in Helsinki is flexible and provides an excellent basis for various renewable energy solutions.
The heating and cooling networks are independent of the fuel used. In addition to increased use of biofuels, we are investigating, for example, extensive utilisation of heat pumps, solar heat and geothermal heat. In addition to the development of production, we are also evaluating the possibilities of demand response, distributed generation and energy saving.
In Suvilahti, the installation work of the largest electricity storage facility in the Nordic countries was completed in summer 2016. In the pilot project, new opportunities offered by a megawatt-scale electricity storage facility will be tested: flexible intermediate storage of electricity and new business models that can be developed by storing electricity.
Construction of wind power in Helsinki is also an option. According to a study carried out by the City Planning Department, Helsinki residents have a positive attitude towards wind power. If suitable sites are found and the investments prove to be worthwhile, we will be interested in building wind power in the sea area outside Helsinki.
ENERGY EFFICIENCY IS THE BACKBONE OF OUR OPERATIONS
Combined heat and power (CHP) generation together with district heat and the rapidly increasing district cooling form the basis for an energy-efficient energy system in Helsinki.
We aim to further improve the efficiency of energy production and distribution. In accordance with the energy efficiency agreements, we undertook to increase the efficiency of our energy use by 5 per cent by 2016 in comparison with the 2005 levels and to promote improved efficiency in our customers' energy use by 9 per cent by 2016. We achieved these targets already in 2015.
We have also joined the new energy efficiency agreement for 2017–2025. We will develop especially the production and distribution solutions of district heat and district cooling systems to improve energy efficiency.
The modernisation of the Mankala hydropower plant continued, and it will be completed in 2017. Among others, the turbines of the plant will be replaced in connection with the modernisation. As a result of the modifications, the utilisation of the power plant will improve by about 3–4 per cent, which corresponds to an increase of approximately 6 gigawatt-hours in annual electricity generation. The Klåsarö and Ediskoski hydropower plants are next in line for modernisation.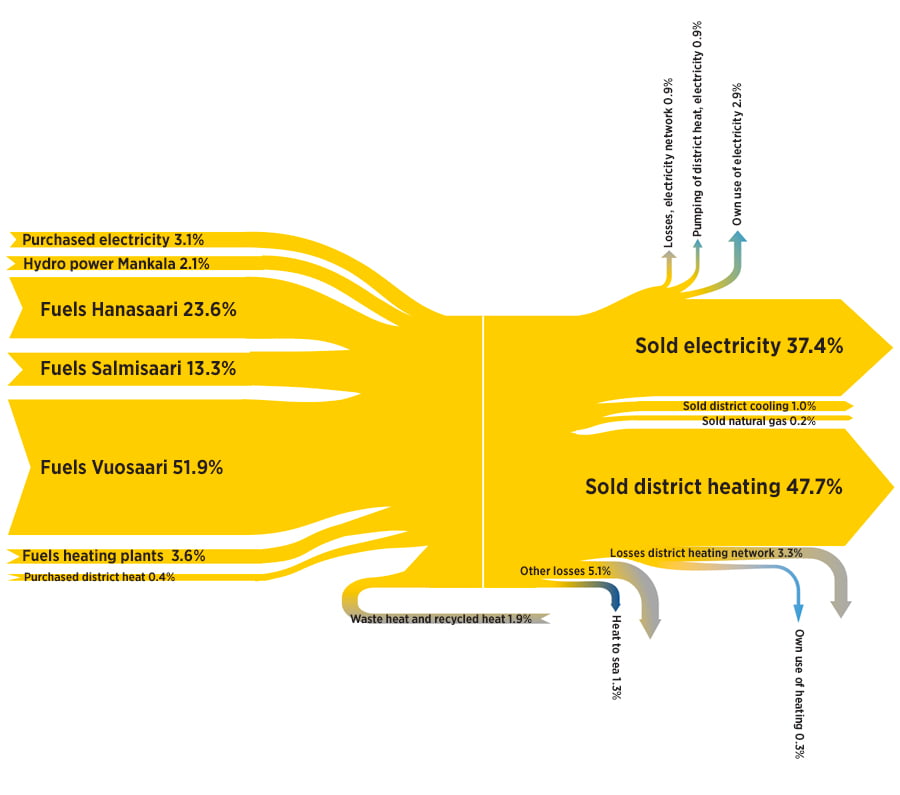 The Helen Group's energy efficiency is 88.6%. The energy balance has been drawn up based on energy use in accordance with the Energy Efficiency Act and the company's energy audit.