Group visits for schoolchildren
Come with a group to learn the secrets of energy saving. We offer exhibition tours and lectures for a variety of groups, from schoolchildren to students and adult groups.
You may book a visit at:
energiatori(at)helen.fi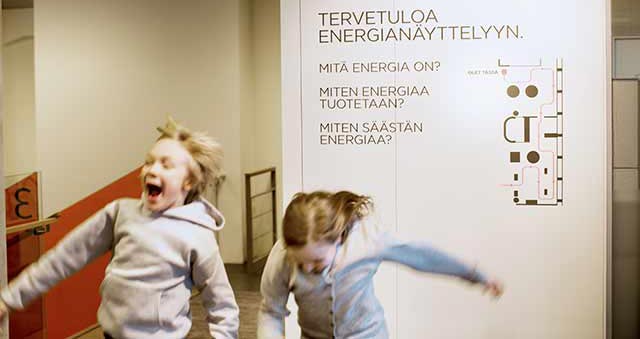 Many activities for young people
We offer many kinds of activities for people of different ages interested in energy issues. For seventh-graders, we offer excursions to the Energy Gallery. During the visit, the students will hear about, e.g. energy production and use.
We are also involved in the Enterprise Society, which is part of the youth programme of the Economic Information Office. The study module is meant for fifth and sixth-graders. In the Enterprise Society, students practice working, spending money and acting as responsible consumers. Every student has their own profession which they manage all day. In our section, the pupils learn about the role of an energy enterprise in society and about energy saving.
For ninth-graders, we organise the annual Energy in Finland event in co-operation with Finnish Energy Industries and other energy companies. During the event, the students have an opportunity to learn about the energy and environment activities and the energy company in their own area.

We also grant an annual Energy Bonus of 2000 euros to a school in Helsinki that has carried out active environmental work. The Energy Bonus encourages young people to discover ideas about projects that promote sustainable development and energy saving. The environmental team of the awarded school will also have an opportunity to visit a power plant.
We also organise various excursions to our co-operation schools and collaborate with vocational institutions, universities of applied sciences and universities.
preliminary questions for groups