Charging electric vehicles
Shared charging point for electric vehicles for a housing company
A shared charging point is an easy way to provide the residents of a housing company with an opportunity to charge electric vehicles. We deliver a charging point as a service in the car park of the housing company.
Get started with a shared charging point
For all residents
With a shared charging point, all residents will have an opportunity to charge their electric vehicles.
Easy to start
The acquisition of the first electric vehicle charging point for a housing company is a straightforward process. If the residents need further charging points at a later date, it is easy to expand the service.
Vehicle chargers pay for use
The chargers of electric vehicles pay for charging with the Virta service in the same way as with other public charging points.
Hassle-free service
The installation of a charging point takes place without major modification works. Helen is responsible for maintaining the electric vehicle charging point.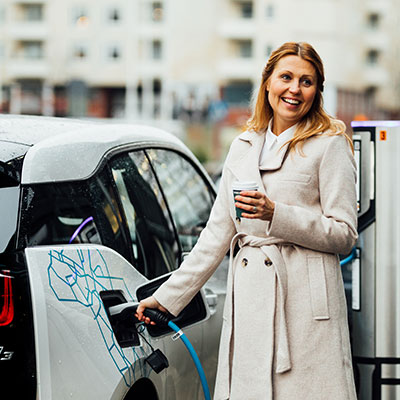 How to get a shared charging point for electric vehicles for a housing company
Decision of the Board of Directors
Discuss the acquisition of a charging point with the Board of Directors.
Selection of site
Select a suitable site for the charging point in the property's car park.
Order
Order the service with the form below.
Contact
We will contact you to ensure that the property is suitable for the installation of a charging point for shared use.
Delivery & installation
We will deliver the charging point to the housing company in about four weeks from the order.
Charging
At a housing company's charging point in shared use, electric vehicles are charged with the Virta service in the same way as in public charging points.