News / 4.12.2019
Helen Ltd and Suomen Kaasuenergia Oy launch a joint construction project on Mannerheimintie on 4 December 2019
Over the coming winter, Helen Ltd and Suomen Kaasuenergia Oy are building new extensions to the district cooling and natural gas network in the Ruskeasuo area at the north end of Mannerheimintie, between 116 Mannerheimintie - Ruskontie - Nauvontie.
The companies executing the project are able to share the building costs and minimise the inconvenience caused to city residents by joining forces in building new infrastructure required by the developing and expanding city.
The works will be carried out in two sections:
- The first section lies between 166 Mannerheimintie and Koroistentie, affecting the right-hand lane of northbound Mannerheimintie. This section is scheduled for completion by 15 February 2020.
- The second section is between Koroistentie - Ruskontie - Nauvontie. The estimated completion date of this section is 30 March 2020.
The works will slow down traffic throughout their duration. We apologise to local residents and city dwellers for any inconvenience this causes.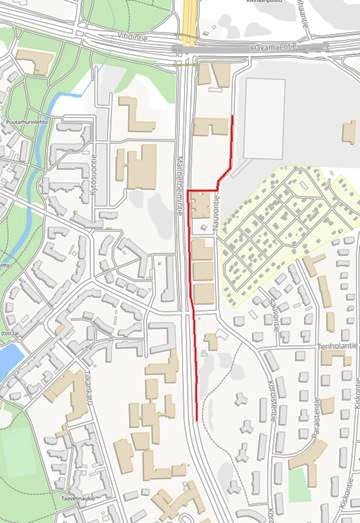 The construction area: Mannerheimintie 166 - Ruskontie - Nauvontie