Instructions for reading the bill
We have compiled instructions on how to read the electricity and district heating bill. If you still have any questions about the bills, please contact our customer services. We will be happy to help you.
Your New-Look Electricity Bill
You are holding Helen Ltd's new-look electricity bill. The information on the bill is the same as before, but it has been rearranged to be better and clearer.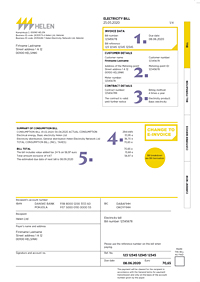 1. Bill information
Bill number, due data and reference number.
2. Customer information
When you contact our customer services, you will need one of the reference numbers of your bill: customer number, contract number, bill number or metering point ID. Customer-related details are found in the same place.
3. Contract details
The contract number, validity of the contract and the billing details for the contract have been grouped together.
4. Actual electricity usage
Shows electricity consumption in kilowatt-hours and euros for the period between meter readings.
5. Breakdown of total charge
Shows the share of value added tax of the total charge of the electricity bill and the total charge without value added tax.
Page 2: Breakdown of consumption bill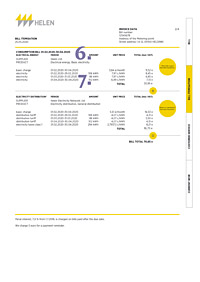 6. Basic information of breakdown
Billing period for the consumption bill, e.g. 01.02.2020-30.04.2020.
7. Breakdown of the bill
Breakdown of electric energy based on actual electricity usage. The breakdown shows on separate lines the electricity product, period
during which the consumption has been metered, actual electricity usage (kWh), unit price, and total of each line in euros. The bill breakdown shows actual electricity usage, but not meter readings.
Instructions for reading your district heating bill
The district heating bill has one page. Find out more about the contents of the district heating bill with the following example.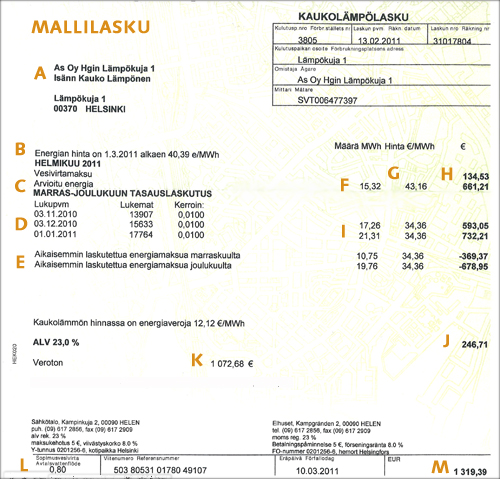 A. Payer and recipient information.
B. Information line.
C. The bills are either estimated bills or balancing and estimated bills.
D. Reading information of a balancing bill (2 months).
E. MWh and € billed as estimates for the balancing period.
F. Estimated consumption for the estimated period in MWh and €.
G. Unit price of energy €/MWh.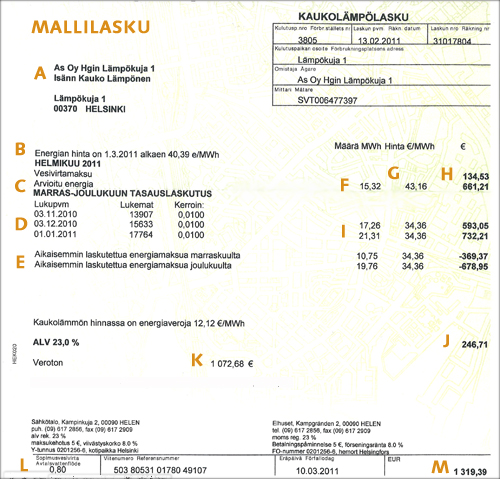 H. Share of invoicing month of annual fixed water flow fee based on contracted water flow.
I. Actual consumption for the balancing period in MWh and €.
J. Breakdown of value added tax.
K. Sum total of the bill excluding tax.
L. Contracted water flow m3/h.
M Sum total of the bill including value added tax.