News / 17.11.2022
Helen receives official approval from the Science Based Targets initiative for its emissions reduction targets
Helen is the first energy Finnish company to receive official approval from the Science Based Targets initiative (SBTi) for its emissions reduction targets. The new targets are based on the Paris Agreement, aiming to limit global warming to 1.5 degrees worldwide.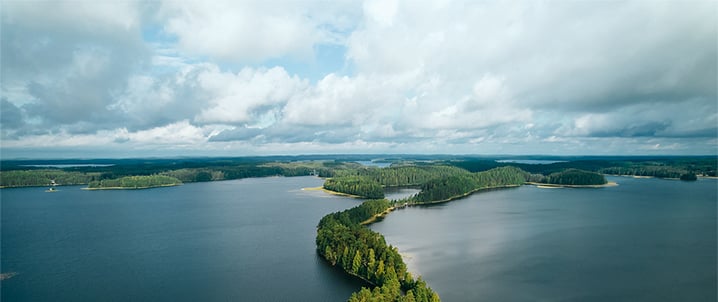 - Helen has carried out long-standing climate work: for years we have been building a sustainable energy system with supply security, e.g. by investing in low-emission and carbon-neutral production. Our science-based targets that have now been approved demonstrate our commitment to emissions reduction and climate-smart action, and they increase the transparency of our sustainability work, says Helen's CEO Juha-Pekka Weckström.
In the targets approved by SBTi, Helen commits to reduce its Scope 1 and 2 greenhouse gas emissions by 77 per cent per megawatt-hour of electricity and heat generated by 2030 from a 2019 base year. Helen also commits to reduce its Scope 1 and 3 greenhouse gas emissions by 77 per cent per megawatt-hour of electricity and heat sold by 2030 from a 2019 base year. In terms of Scope 3 emissions, the target also includes the greenhouse gas emissions of the energy production of associated companies, as well as the emissions related to the production of purchased and resold electricity and heat. The target boundary includes biogenic emissions and removals from bioenergy. In the target, biogenic emissions are treated as having zero emissions as sustainable biomass has zero emissions in the EU emissions trading scheme.
- This is an important and significant commitment for us. SBT provides instruments for keeping up the pace on the direct and life-cycle emissions of our own activities. Our target is ambitious even on the international scale, and we hope it will also encourage other Finnish companies in our sector to take steps in the same direction, says Maiju Westergren, Vice President, Sustainability and Public Affairs.
In addition to the SBT emissions reduction targets now approved, Helen also has its own climate target on carbon-neutral energy production by 2030. The company will phase out the use of coal five years ahead of schedule, i.e. by the beginning of April 2024 at the latest. In addition, Helen has for years been moving towards a distributed energy system, investing strongly in the production of renewable and emission-free energy. Wind power production has been substantially increased, and as a result of the latest investments, wind power is expected to account for one-third of Helen's electricity generation in 2025 when more than 90 per cent of the company's total production would be emission-free.
The Science Based Targets (SBT) initiative is a partnership between the Carbon Disclosure Project (CDP), the United Nations Global Compact, the World Resources Institute (WRI), and the World Wide Fund for Nature (WWF). The science-based climate target is based on a scientific calculation method to ensure that the company's targets are in line with the targets signed in the Paris Agreement.
Read more about the topic