Vuosaari bioenergy heating plant
We are phasing out the use of coal and aiming for carbon neutral energy production by 2030. The Hanasaari coal-fired power plant was closed on 1 April 2023 and the Salmisaari coal-fired power plant will be closed in April 2025. The heat production of the power plants will be replaced by recycling excess heat with heat pumps, by heat storage and with biomass.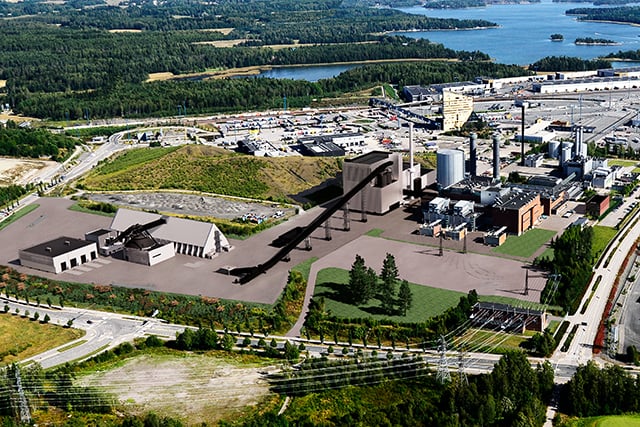 The Bioenergy heating plant is a new addition to the Vuosaari power plant area
The new bioenergy heating plant in Vuosaari is located north of the existing natural gas power plants which were commissioned in the 1990s. The district heat output of the bioenergy heating plant is approximately 260 MW. It will not produce electricity, but the plant can be modified into a combined district heat and power production plant by investing in a separate turbine plant.
The design of the plant has therefore been based on its versatility for various future needs, enabling the utilisation of e.g. P2X technologies in the future. The new plant will produce about a quarter of the district heat energy in the entire city of Helsinki, balancing the price variations of heat energy.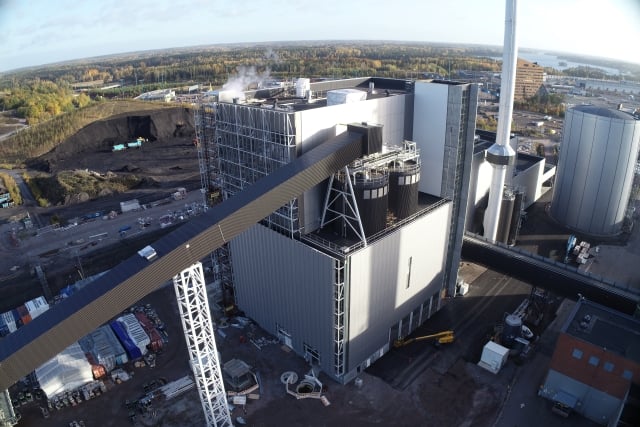 Top-notch energy efficiency
The energy efficiency of the new bioenergy heating plant has been taken to the highest level, and the minimum temperature of the flue gas it produces is about 11 degrees when it leaves the stack. The heat recovery of flue gases after the boiler can be maximised, and almost all of the water vapour contained in them is condensed with the aid of a separate heat recovery plant.
The selected solutions make the Vuosaari bioenergy heating plant possibly the most energy-efficient combustion plant in Finland. Water vapour accounts for less than 1% of the flue gas mass leaving the stack, and the utilisation of the entire plant calculated according to the method used in the EU is a whopping 122%.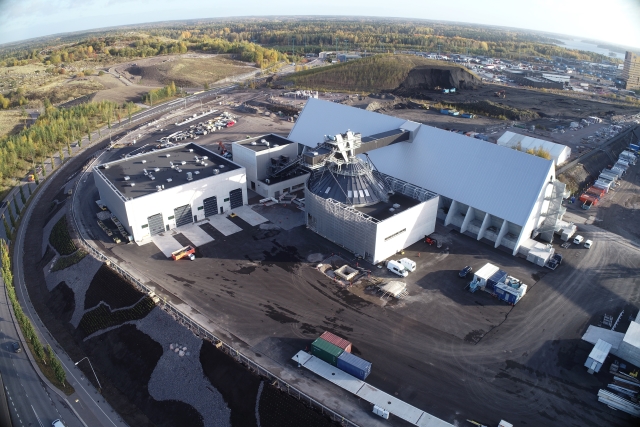 The carbon-negative plant is an important part of the energy mix in Helsinki
The Vuosaari bioenergy heating plant supports our journey towards carbon-neutral energy production. It will replace the production of the Hanasaari coal-fired power plant, which was closed in spring 2023, and the Salmisaari coal-fired power plant, which is to be closed in spring 2025. It is part of the distributed energy system where heat is produced from energy that is recovered from the ground, air, water, and waste heat. The plant will reduce carbon dioxide emissions by 700 tonnes per year.
Our operations respect biodiversity, aiming for long-term net positivity. The main fuel of the Vuosaari bioenergy heating plant is wood chips obtained as a by-product of forestry that cannot be utilised in other ways. The fuel we purchase has either a sustainability certification or it comes from otherwise controlled sources.
Questions about the Vuosaari bioenergy heating plant
You can change the question with arrow keys and open and close the answer with space key.