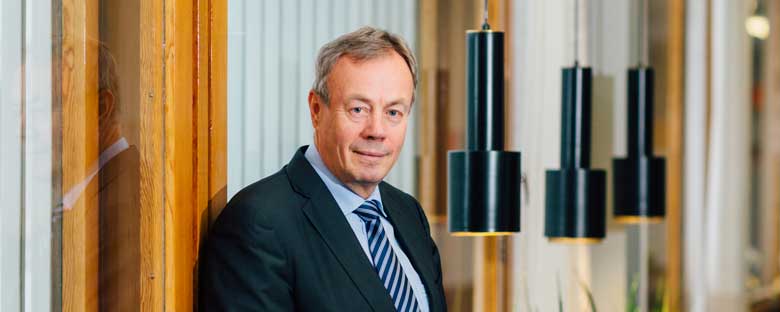 We are building a sustainable energy future with our customers
Year 2017 at Helen was a year of development and growth. We have made a determined effort to develop our sales and customer management, and during the year the number of our customers rose to a record level, well over 400,000.
The Helen Group's net sales increased and the results were at the anticipated level, slightly higher than in the previous year. We continued to develop new services and sales in accordance with the strategy, and we promoted projects related to renewable energy production and the recycling and storage of energy.
During the year, we made progress towards our long-term target, climate-neutral energy production. The first fire was ignited at the Salmisaari pellet-fired heating plant in October, and the plant started commercial operation in February 2018.
The Esplanade underground heating and cooling plant, which is currently under construction, will be completed in the spring. With the plant, we will produce more district cooling and recycle energy even more efficiently than before.
During the past year, we sold new services, such as solar power plant solutions and the Demand Response service to companies. Interest in the charging solutions for electric vehicles has increased in all customer groups, and we at Helen are strongly engaged in creating new services and operating models for electric vehicles. In the autumn, we opened Finland's first two-way charging point for electric vehicles in Hanasaari. The two-way charging point is a step towards an energy system of the future, where vehicle batteries play a key part in storing energy and increasing flexibility in the system.
We also made substantial investments in energy storage and presented a plan for Finland's largest energy storage facility, which would be implemented in disused oil caverns located deep in the bedrock of Helsinki.
The district heating network and the existing energy system in Helsinki provide a good basis for new energy solutions, such as storage and flexibility. The significance of storage is emphasised in the energy system of the future, where solar energy and wind power will play an increasing role.
Towards stronger energy partnership through development
We have been able to develop our operations and improve Helen's competitive position. For example, we have gained substantial savings at power plants and in maintenance by developing our operating models. This work is reflected in our financial performance.
We want to be an energy partner for our customers and the most responsible operator in the sector, a company you can trust in all situations. The contribution of every Helen employee plays a part in this work. We believe that the best solutions and the most suitable service entities can be built through seamless cooperation with our customers. Our production is also directed and developed on the basis of our customers' needs to an increasing degree, and we are constantly implementing more joint production solutions with our customers.
We need sensitivity to listen to our customers' needs and an ability to respond to these needs with an increasing speed and agility. Our goal is to have more than half a million customers in two years' time. I believe that we have every chance of achieving that goal.
I wish to thank our customers and stakeholders for good cooperation in 2017 and all Helen employees for their valuable contribution to Helen's success.
We continue to develop our operations towards climate neutrality and build a sustainable energy future together with our customers.
Pekka Manninen