Sixth formers generating ideas to raise climate awareness among young people
The Safari youth camp for sixth formers is a way of bringing together young people and enterprises in order to seek solutions to social problems.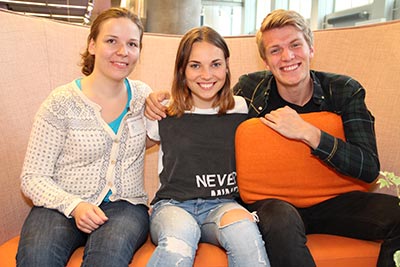 For Helen, Safari has become an excellent way of finding concrete solutions for social responsibility in order to create common values for customers and the surrounding community and to find means of standing out from the competitors. The theme of the Safari youth camp organised by Helen for the second time on 6–13 June was 'energy-smart way of life'.
Enthusiasm for co-operation in corporate life was high in a way that only young people can manage. We received a lot of good ideas to inspire young Helsinki citizens to energy-smart everyday solutions.
Safari, the camp for social influencing for young people, has been developed by Avanto Helsinki and Cooperative Torstai.
To kick off the summer, a group of about ten youngsters from Safari created means for Helen to develop energy-smart lifestyle choices among young people.
After a quick lesson on the basics of energy production and use, the participants dispersed throughout Helsinki to observe methods of energy use in the capital's street scene. They interviewed people and took photographs. After that, it was time to share the observations and thoughts with Helen's experts in a workshop, brainstorming enthusiastic and even some wild ideas.

WHO CARES? YOU HAVE TO RESPOND TO THAT
In their final report, the sixth formers presented their concrete suggestions to promote energy-smart ways of life. Their wish was to have comparable information, encouragement and appeal in communications. Energy saving cannot be justified to young people only on the economic grounds.
They need information about the meaning of energy saving to society. We must discuss climate change in more forceful tones. This was the young people's message to us. They also pointed out that the element of surprise is important if you want to get your message across.
Young people debated energy smartness also from the point of view of food. They found many ways of fighting food waste. In energy-smart transport, young people saw electrobiking as a gateway to electric traffic. They also came up with an idea for a smartphone app to monitor the impacts of an energy-smart way of life.
At the end of the week, everyone agreed that the method of operation was good. The experts praised the youngsters' ability to comprehend a complicated energy entity and to introduce methods of influencing, which we can utilise in interaction with young people and the entire urban community.
The youngsters regarded Helen as an exceptional energy company that sees the entire cycle of energy smartness from production to end use.

ENERGY RENOVATION FUNDED BY CYCLING
On 29 March, the Safari participants organised an Earth Hour event at the Energy Gallery, where young people raced with electric bicycles. At the end of the cycling event, Helen granted EUR 5,000 for the energy renovation of the youth centre Happi, which was carried out by the young people themselves.
In addition, the Safari participants planned the Sadonkorjuu (Harvest) event for the Energy Gallery, where our customers were able to think up ideas to develop urban farming and to reduce food waste.
Co-operation with the Safari youth continues. Safari means creating innovations and solutions together with young people. Comparative competitive advantage can be found in inclusive social responsibility where individual ways of inclusion are created for each customer and interest group. These will help, for example, in achieving carbon neutrality.