Our mission is to produce the world's best city energy for our customers and the environment.

Our combined production of electricity, district heat and district cooling has already been awarded as the most efficient city energy solution in the world. And we are striving towards even greater goals: achieving climate-neutral energy production in a profitable and responsible way.
Together with our customers, we are implementing an extensive energy reform, with biofuels, solar energy, smart energy systems and new energy services playing a key role.
We remember in all our operations that we are here for our customers. The better we do in our work, the more our customers will benefit – and the cleaner our environment will be.
Our strategic goals 2016-2020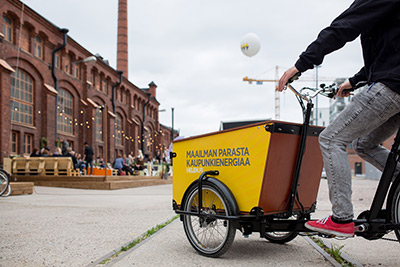 Growth
We offer the best customer experience in the sector. We increase the market share of the current main products in a profitable way. A significant part of our future growth is based on new energy solutions and services.
Improved profitability
We are improving the efficiency of our operations to ensure the competitiveness of our services and continuity of our operations. We are increasing our agility in order to meet the changing market situation.
Climate-neutral energy
We aim for a climate-neutral energy system. We will implement it with diverse measures of various sizes, driven by customer needs. We are a forerunner in sustainable energy systems.
Responsibility as a competitive edge
We are the most responsible actor in the energy market. Our actions and messages are consistent, building genuine thought leadership and responsibility.
We share in success
Every one of our experts can be proud, enthusiastic and motivated in their work, achieve an excellent level of performance, and wants to develop professionally. Our management supports excellent performance and drives us to succeed.