Our customer service is temporarily overloaded and at times we are unable to accept new phone calls if all places in queues are occupied. Read more
MobilePay billing
MobilePay is a handy way to receive and pay bills on your phone. You can pay a bill with just one swipe in the same way as making other payment transactions in the MobilePay application.
How to start using MobilePay billing
1. Register as a user of MobilePay
To start using MobilePay billing, you must first register as a user of the MobilePay application.
Download the MobilePay application on your smartphone
Open the MobilePay application and select "Create new user"
Enter your details

your full name (as it appears on your ID card) and personal identity code
your email address
your payment card detail
your account number

Select a four-digit password and confirm it.
You can now start using MobilePay.


2. Select MobilePay as the billing method
Select MobilePay as the billing method when you open an electricity contract on our website or in customer service.

If you are already our customer, you can change MobilePay as your billing method on the Internet or by contacting our customer service.

Also check that the selected card payment limits enable payment of the electricity bill. This is also worth taking into account when selecting the billing frequency.
By activating push notifications you will receive alerts about upcoming bills. Also make sure that notifications are enabled in both the MobilePay application and on your phone.
In future, you will receive your electricity bills for payment with MobilePay.
Paying a bill on MobilePay
Once you have received a bill, please select the card you want to use for payment.
Pay the electricity bill by swiping in the same way as when accepting other payment transactions on MobilePay.
The payment will be charged immediately unless you select the bill due date or another payment date on the "Pay the bill" page when approving the transaction.
The address for sending the bills is the telephone number on which you are using MobilePay. If we are unable to send the bill to MobilePay, we will send it to you as a paper bill.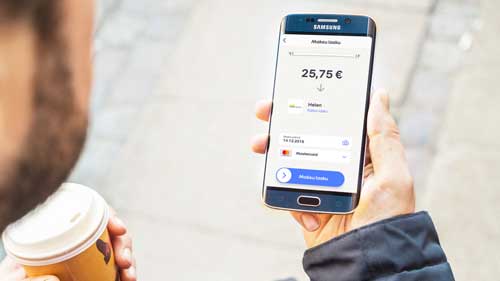 Frequently asked questions about MobilePay billing
You can change the question with arrow keys and open and close the answer with space key.