Geothermal heating in a housing company
Geothermal heat is the choice for a housing company that values sustainability and energy efficiency. Helen offers housing companies a geothermal heating solution either to be owned by the housing company or as a service with a monthly fee. A heat recovery system can be added to the geothermal heating solution, taking account of cost-effectiveness and the housing company's needs.
Geothermal heat, i.e. geothermal energy, means energy that is stored in the bedrock, soil and waterways, which can be utilised in the heating, and also in cooling, of properties. The stored geothermal energy is renewable energy mainly originating from the sun, but it also includes heat rising from the Earth's core. Geothermal heat is a long-term and ecological heating solution. When correctly designed, geothermal wells provide enough thermal energy for the entire life cycle of a housing company.
Geothermal heat reduces the heating costs and the total service charges of a housing company
Geothermal heat is environmentally friendly and self-sufficient energy production on the housing company's own land
Geothermal heat increases the property's attractiveness and the market value of homes
Heat recovery that is combined with geothermal heating enables efficient utilisation of all energy flows of the property and reduces the number of geothermal bore holes to be drilled.
Stages of acquiring geothermal heat
The acquisition of a geothermal heating system has many phases that are significant for housing companies, and Helen provides support for the housing company every step of the way. With a high-standard survey and planning, the new geothermal heat system of the housing company will start producing ecological heating energy about 12–20 weeks from placing the order. A more detailed description of the different stages of installing geothermal heating is available in the buyer's guide to geothermal heating.
Well drilling and installation of equipment
Installation of equipment and dismantling of previous system
Commissioning and adjustment of the system
Handover and instruction for use
Warranty period and monitoring and maintenance service
Two ways to acquire geothermal heat
Own geothermal heat
A geothermal heating system tailor-made for housing companies as a ready-for-use delivery with a contract price. The geothermal heating system can be implemented with or without heat recovery, depending on the housing company's needs. We offer monitoring and maintenance security as an extra service.
Geothermal heat as a service
Geothermal heating with a service model where Helen is responsible for the implementation and operation of the entire solution for a monthly fee. Predictable costs mean a worry-free investment and easier budgeting for a housing company as there will be no loan burden. Heat recovery can be included in the solution, depending on the housing company's needs.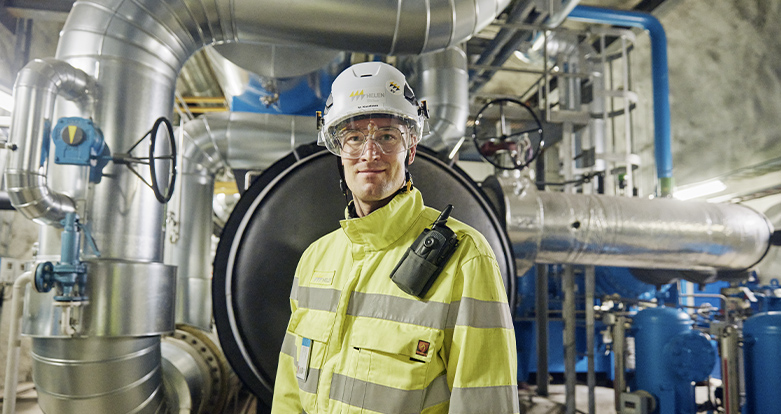 Monitoring and maintenance service
With the monitoring and maintenance service, Helen's experts are at your disposal to ensure that the housing company's own geothermal heating system operates well in any situation. Our experts monitor the system remotely throughout the day and night, which means that any fault situations are remedied in no time at all. With annual maintenance carried out by professionals, you will take good care of the housing company's system and will be informed of any repair needs well in advance.
Frequently asked questions about geothermal heat
You can change the question with arrow keys and open and close the answer with space key.