News / 14.8.2018
A free charging station for electric cyclists in Katajanokka
Helen is providing a free charging station for electric cyclists on the Katajanokka waterfront in Helsinki. The e-bike charging station is the first of its kind in Finland and utilises solar panels and an electricity storage unit as power sources. The charging station is now open to city residents at the side of Allas Sea Pool, next to Flying Cinema.
The charging station obtains power from the four solar panels on its roof. Any excess electricity is stored in a battery, from which it is available for charging bikes on days when there is no sunshine.
On a sunny summer's day the panels generate 4.24 kWh in energy. The battery capacity of a good e-bike is about 0.3–0.4 kWh, meaning production of up to 14 charges per day. The capacity of the batteries in the electricity storage unit is 3.12 kWh, so that a battery lasts about 7-10 charges.
The output of bike chargers is typically around 80 watts, therefore the storage unit batteries permit approx. 40 hours of continuous charging. In reality, the number of charging hours is higher, assuming that bikes are not brought for recharging with the battery completely flat.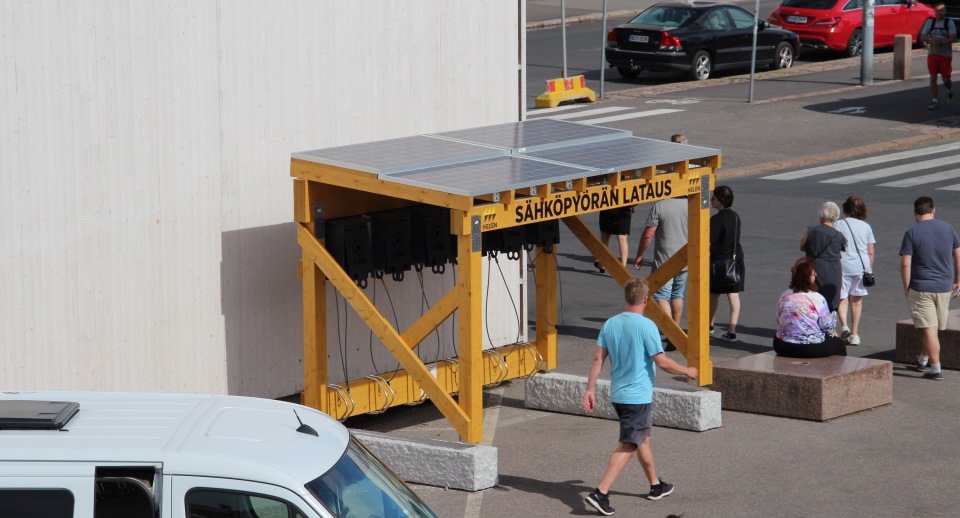 City residents on the move with lower emissions
"It's brilliant to get more clean electricity to get Helsinki folk mobile! It's also great that the charging station if fully self-sufficient and the first of its kind in Finland. The charging station is not connected to the grid, which gives a good idea of the qualities of renewable electricity production," says Krista Jaatinen, Product Manager from Helen.
The e-bike charging station was designed in partnership with ReSolar Oy, which also installed it. The charging station was implemented using Helen's Environmental Penny funds.
The solar-powered charging station is part of EU's mySMARTLife project, aiming to help city residents to make use of sustainable energy solutions, reduce emissions, and increase the volume of renewable energy.
Read more about the topic