News / 28.11.2018
Helen first in Finland to add mobile payments to billing options
Helen and MobilePay have agreed to join forces in making mobile payments an option for Helen electricity bills next year.Helen is the first company in Finland to adopt mobile payment as a billing choice.
Helen endeavours to introduce new digital services and create easy solutions for customers' daily lives. Billing is becoming electronic at speed, and the majority of customers are already using the e-bill. Mobile payment is a new big step in the electronisation of billing and is expected to become much more common in the coming years.

"Helen's clientele is diverse, ranging from young people just leaving home to seniors and pensioners. Mobile payment is requested particularly by the young," says Kirsi Kuusisto, Head of Unit from Helen. "Here at Helen, we deem it important to offer customers a safe and reliable method of payment, which they can themselves choose from several options."
MobilePay usage becoming more versatile
For MobilePay, collaboration with Helen is yet another new area where consumers can use the payment application to make their daily lives run more smoothly. Helen is the first company in Finland to adopt mobile payment as a billing choice. Paying the bill the mobile way means that the consumer no longer needs to log into an online bank to pay the bill, but he can use a the MobilePay app on his smartphone.

"The consumer's daily life is facilitated by solutions available on the market that are widely applicable to different purposes. As well as for cash transfers, MobilePay can already be used at checkouts, self-service tills, online stores and applications. With the help of the service now being introduced by Helen, bill-paying will also be possible with a single swipe on the smartphone," comments Anniina Heinonen, CEO of MobilePay.
Agile billing process
Helen is continuously developing the billing process, and it is implemented together with partners. Intrum is responsible for the accounts services, bill reminders and collection services, as well as customer services for billing and collection. The transmission of bills to MobilePay and other billing channels is the remit of PostNord Strålfors Oy. Introduction of MobilePay as a billing channel became an option for Helen when the transmission of bills into the service became possible through a process implemented by the partners.
Facts:
Mobile payment will be introduced as a new payment option early in 2019.
The service is provided by MobilePay.
Mobile payment also allows card payments, both credit and debit cards.
Helen customers can choose the billing option most suitable for them: a paper bill, e-bill, or mobile payment.
MobilePay is the leading mobile payment solution in the Nordic countries, the largest for physical and online store payment transactions.
This year, a total of EUR 207 million has been transferred by MobilePay in Finland, in more than 7.2 million transactions.
MobilePay is the leading mobile payment solution in Finland in terms of usage and user numbers.
MobilePay transfers made in Finland in January-October 2018 were up by 150% compared with the same reference period last year.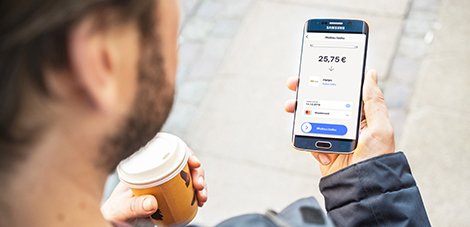 Image:File illustration related to the service in Helen material bank.