News / 20.8.2021
Art distribution cabinets bring people together and brighten Helsinki's street scene
For 20 years now, Helen has given hundreds of city dwellers the opportunity to paint electrical distribution cabinets, more commonly known as art distribution cabinets. This summer, Helen's own employees got to make art distribution cabinets for the first time, as we wanted to offer them a safe way to spend time together in the midst of the coronavirus.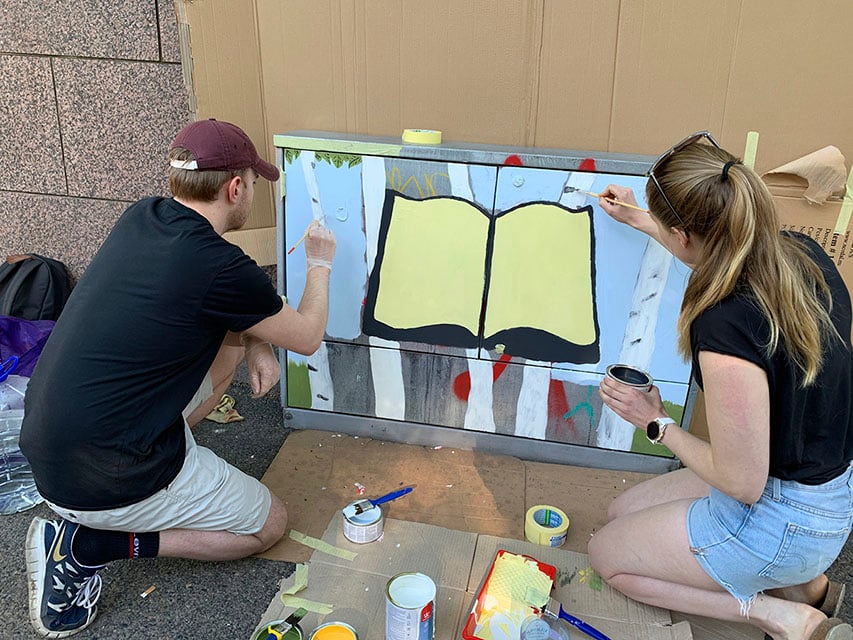 Two of Helen's employees painting the electrical distribution cabinet on Snellmaninkatu.
Helen is one of the critical companies for security of supply, which is why the organisation has complied with strict restrictions against the coronavirus. Moving to home offices brought new challenges, but at the same time, it has also led people to think of new ways of keeping up a community spirit.
To nurture the power of cooperation and community in the middle of the coronavirus, Helen gave its employees the opportunity to paint art distribution cabinets. The project was intended to offer employees the chance to do something creative and different.
"Communal working together has become minimal for many, but we saw a great opportunity here to provide teams with a safe way to spend a moment together and unleash their common creativity. This was also a great way to bring people together across organisational and team boundaries," says Sanna Lavonen, Helen's Employee and Customer Experience Manager.
The willingness of Helen's employees to participate was a positive surprise for the organisers of the art distribution cabinet activities, as there were more enthusiastic teams than they had expected. Participants described the joint painting session as a fun event, almost like an excursion. For many employees, making art distribution cabinets also provided a way to meet colleagues for the first time face-to-face.
"Our team was immediately excited about the idea of painting. We haven't seen each other face-to-face or had time to do much together, as we only started working with the current make-up at the start of the year. Now we can make this a tradition and get together every year as a group to admire the art distribution cabinet we painted," says Helen's Group Manager Elisa Jernmark.
Art distribution cabinets also offer communal activities for city residents
Hundreds of people from children's daycare groups to seniors and from hobbyists to artists have painted their works for the streetscape over the years through various collaborative projects. Celebrities have also been been involved in painting, like Linda Liukas, a pioneer in the programming industry, the television personality and entertainer Sampo Marjomaa, and graffiti artist Emilio Mäkipää, known in the street art circles.
Creating art brings people together, and in many parts of the city painting art distribution cabinets has become a common project for the entire community. For example, in Herttoniemi, groups of seniors have painted art cabinets together, in Arabianranta making art cabinets has traditionally been a part of Arabia street festivals, and in Käpylä, residents have made a virtual map of Kalevala-themed art cabinets in their area.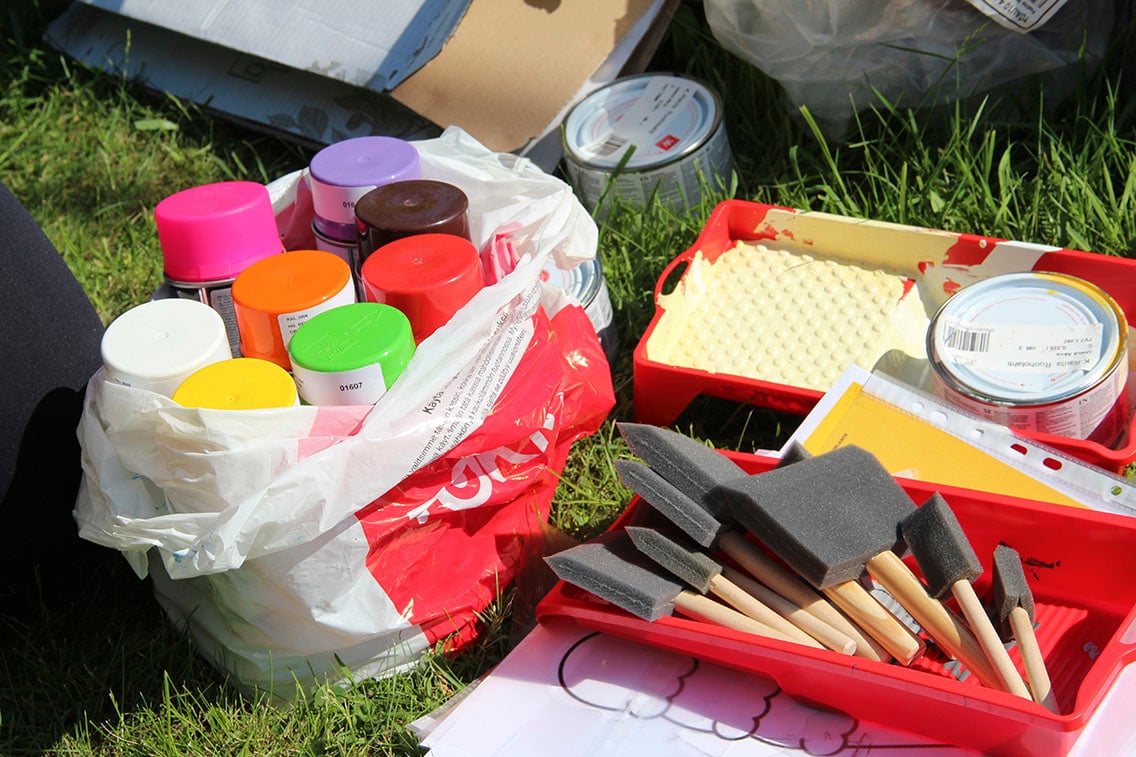 Facts:
Electrical distribution cabinets refer to Helen Electricity Network cabinets through which electricity is distributed to customers.
There are more than 7,500 electrical distribution cabinets in Helsinki, of which about 750 will have been adorned with artwork to liven up the street scene by the end of this year.
The power distribution cabinets are prone to being defaced, which is why we started covering them with purposely designed artwork.
The painters send a sketch of their work to Helen for approval before they receive permission.
With the distribution cabinet art, Helen Electricity Network ensures the cabinets look tidy, as well as fulfilling their social responsibility and helping to improve the cityscape.
If you are interested and want to apply for permission to paint an electrical distribution cabinet, please contact Helen Electricity Network.


Read more about the topic