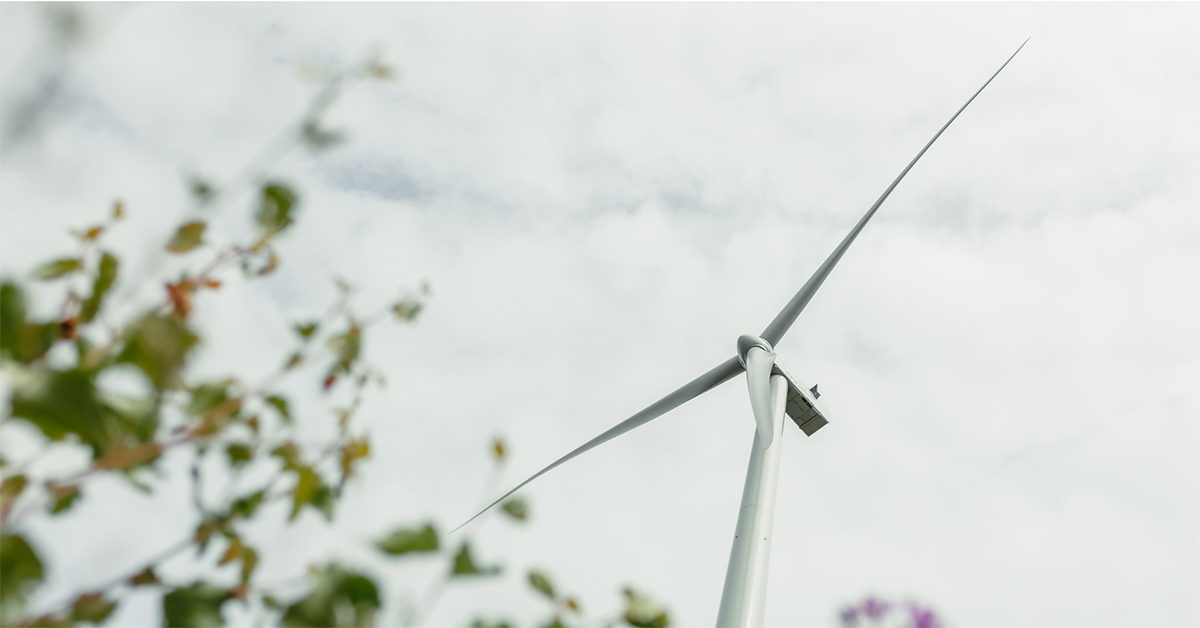 News / 28.11.2022
Helen accelerates wind power investments – New wind farm to Eastern Finland
Helen has agreed together with Ålandsbanken Wind Power Fund and OX2 on the construction of a 145 MW wind farm in Pieksämäki. A total of 22 wind turbines will be built in the Niinimäki wind farm which, once completed, will be the largest wind farm in Eastern Finland.
The investment supports the achievement of Helen's carbon neutrality target set for 2030 and the company's accelerated transition to a distributed energy system. At the same time, we want to meet the needs of the electrifying society as well as increase our energy self-sufficiency and the production of domestic, emission-free energy.
"As a result of the acquisition of the Niinimäki wind farm, we will decentralise wind power production geographically to Eastern Finland. We are particularly delighted about our cooperation with the wind power developer OX2 and about the continuing excellent collaboration with our partner, Ålandsbanken Wind Power Fund. The acquisition of Niinimäki supports our investment in renewable energy production in accordance with our strategy, and once the farm has started operations, our annual wind power production will be about 2.5 terawatt hours," says Jenny Söderman, Mergers & Acquisitions Director at Helen.
The annual energy production of the new wind farm is more than 400 gigawatt hours, corresponding to the annual electricity consumption of more than 80,000 households. This is already the fourth joint wind power investment of Helen and Ålandsbanken Wind Power Fund.
"Niinimäki is already the fifth investment by our fund during the first two years of our operation. Together with Helen, we have this year invested in four wind farms which, after completion, will produce more than 1.5 terawatt hours of renewable electricity per year. The acquisition of funds for our investment fund has been a great success so far, and we are extremely pleased to be able to invest the financial resources of our investors this time in OX2's professionally developed and constructed project. This way, we can also continue our work to contribute to the solution of the electricity price crisis," says Jimmy Forsman, Portfolio Manager at Ålandsbanken Wind Power Fund.
The construction of the Niinimäki wind farm will start immediately, and it is expected to be completed by the end of 2024. The renewable energy company OX2 is responsible for the construction and the technical and financial administration of the wind farm.
"Increasing domestic renewable energy production is now more important than ever, and I am very happy that we are able to start the construction of the Niinimäki wind farm. From the viewpoint of regional economy, it is great that also Eastern Finland will get more wind power capacity and investments," says Teemu Loikkanen, Regional Manager Finland at OX2.
Helen has actively increased its own wind power production. The Juurakko wind farm (40 MW), which we built together with Ålandsbanken Wind Power Fund, started regular power production in November 2022. With our significant wind power investments, wind power is expected to account for a large part of our electricity production in 2025, when more than 90 percent of our total production will be emission-free.
Helen and Ålandsbanken Wind Power Fund have also invested in two other wind farms, the Karahka wind farm (148 MW) in Oulainen and the Kalistanneva wind farm (165 MW) in Kurikka. The Karahka wind farm is scheduled for completion at the end of 2024, and Kalistanneva will start operations in January 2025. In addition, a wind farm of 56 wind turbines with a total capacity of 381 MW is under construction together with Fortum in the Närpiö and Kristiinankaupunki area. In addition to these, the 20 wind turbines of Helen's Lakiakangas 3 wind farm started regular electricity production in early 2022.
Read more about the topic