News / 23.3.2017
Finland's largest pellet boiler to arrive in Salmisaari
Finland's largest pellet boiler will arrive in the Salmisaari power plant area next week.
The larger parts of the boiler will be lifted in place in the boiler hall under construction by crane on Monday and over the subsequent days.
The pellet boiler will be transported to Salmisaari in Helsinki in large sections by lorry from the Port of Turku where it has previously arrived from Poland by barge. The boiler sections will be lifted by crane from Tallberginkatu. The street will be closed to traffic from 7pm on Monday, 27 March.
About 14 metres long and between 4 and 8 metres wide, the sections will be lifted in place by crane into the pellet-fired heating plant, which is under construction.
– The first lift will start after 7pm on Monday evening, and the second lift will take place later that night. The lifts of the other large boiler sections are scheduled to take place late in the evening on Wednesday, 29 March. However, the lifts depend on the wind conditions: if the wind is high, the lifts will be postponed to a later date, says Helen's Project Manager Aleksi Nurmi.
Renewable district heat
The Salmisaari wood pellet-fired heating plant will be completed in early 2018. After completion, it will generate renewable district heat for the needs of about 25,000 one-bedroom flats. Wood pellets will replace the use of fossil fuels in Helen's district heat production.
As a result of the completion of the pellet-fired heating plant, the use of pellets as fuel in Helen's energy production will increase significantly. Pellets have been burned mixed with coal at Salmisaari since 2014 and in Hanasaari since 2015. Once the new heating plant is in full operation, the volume of pellets used by Helen will more than triple compared with the current situation.
Facts about the pellet heating plant:
• Rated thermal input is just under 100 MW.
• Boiler efficiency is about 92% with full pellet input.
• The boiler will be equipped with an option for a nitrogen oxide reduction system.
• The boiler will be equipped with an option for flue gas recirculation.
• Flue gas cleaning will take place with a bag filter.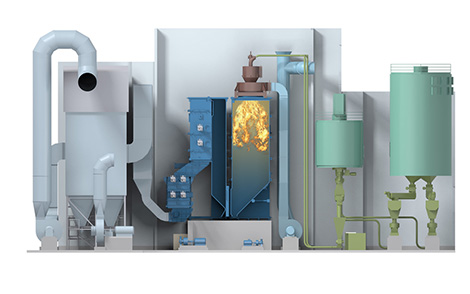 Conceptual drawing of the pellet-fired boiler in the Salmisaari wood pellet heating plant
Read more about the topic