News / 31.1.2019
Helen will build 12 electric vehicle charging points for a housing company in Jätkäsaari
A housing company in Jätkäsaari invested in the future and commissioned Helen to build 12 electric vehicle charging points in the property's indoor car park.
The housing company As Oy Helsingin Saukonkanava in Jätkäsaari selected Helen as the provider of electric vehicle charging points through competitive tendering. The project was launched in early 2018 by identifying the housing company's capacity to install charging points. The housing company's Board of Directors made the procurement decision in the spring and applied for ARA subsidy for building the infrastructure for charging electric vehicles in the autumn. The charging system was installed in November last year.
"We surveyed different options, and Helen's solution was technically the most suitable and flexible for us. The solution was well suited for the needs of our housing company," says Martti Poutanen, Chairman of the Board of As Oy Helsingin Saukonkanava.
"The project with Helen was completed successfully and in a spirit of good cooperation. After completing the survey, we went through the plans together, and the project was implemented according to the agreed schedule."
"This has been a significant project in many respects. The client made a bold and sensible decision in anticipation of future needs. The use of electric vehicles will become more common at an increasing pace in the next few years, and it is always better if the housing company has been proactive in this matter. The level of investment in charging points in large housing companies is quite reasonable when compared to other costs," says Helen's Technical Product Manager Sami Kivimäki.
Kivimäki believes that housing companies that have invested in smart solutions, whether it be charging of electric vehicles, smart heat controls or demand response, distinguish themselves positively in the housing market.
Users bear the cost of charging
The housing company's charging points are connected to the Virta Kiinteistö charging service where the customers charging their electric vehicles will bear the costs of charging. As the user/customer of the Virta service, the owner/charger of an electric vehicle is also able to use the charging points of the nationwide Virta charging network, including Helen's public charging points.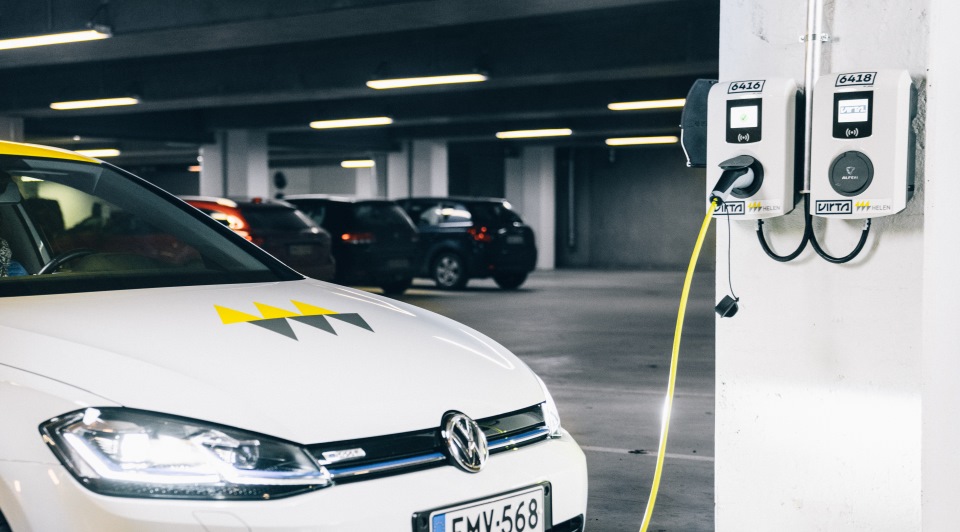 Facts:
12 electric vehicle charging points
Wall mounting in the indoor car park of the housing company
Charging points by Latauspalvelu Virta Kiinteistö
Installation by Eltel Networks Oy
Charging point ICU Eve Mini, manufactured by Alfen

Maximum charging power rate 22 kW
1 charging connection of Type 2
The charging point is compatible with the Virta service, which enables energy metering, invoicing service and management of user rights.

The implementation of charging points included:

Building of the cable route and cabling
Installation of charging points
Commissioning of devices and the Virta service
Upgrading the electricity connection
Read more about the topic