News / 9.7.2021
60,000 tubs of summer ice-cream from the sun! Ice cream factory 3 Friends joined the solar panel boom that shows as a huge spike in Helen's sales figures
The Finnish business world is undergoing a big boom in solar panels. According to the energy company Helen, it has delivered three times as many solar power plants to businesses in the first half of this year than last year in total. The ice cream factory 3 Friends intends to produce 500 litres of ice cream a day with solar energy by the end of summer.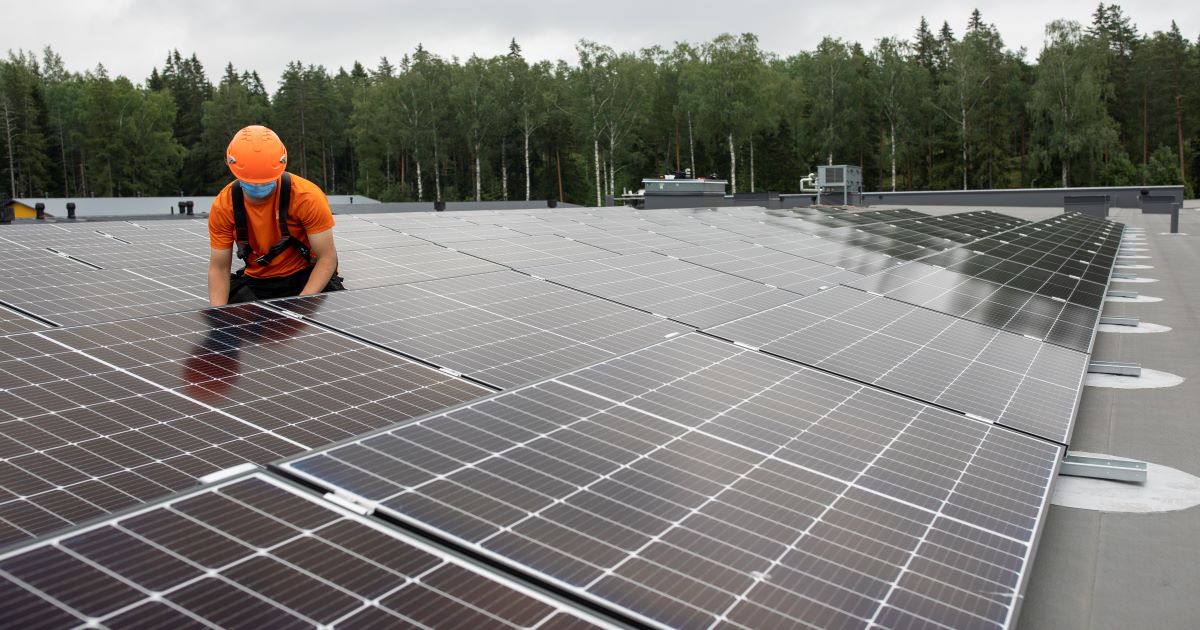 According to Helen's sales figures, companies are ordering solar panels significantly more than last year. Minna Junnikkala, head of Helen's solar business, says that the reason for the popularity lies not only in the companies' increased climate awareness, but also in financial factors: it is now more widely understood that a company can save significant sums of money with solar panels.
"These days, the price of solar panels is at a level that enables concrete savings for a company. The average cost of acquiring solar panels is 30,000–50,000 euros for a small company, 50,000–150,000 euros for a medium-sized company and 150,000–800,000 euros for a large company. The savings achieved depend largely on the size of the solar power plant, the company's electricity consumption and the total price of electricity. The more expensive the electricity is including its distribution and tax, the more valuable the solar power it produces. Smaller companies can save with panels, for example, 8,500 euros per year, but some of the larger businesses can achieve savings of more than 30,000 euros per year. The significance of local and environmentally friendly energy production for companies has clearly grown," Junnikkala exemplifies.
Even a smaller company benefits from panels
According to Junnikkala, there is a deep-rooted misconception in Finland that solar panels are for the exclusive use of major groups of companies. As a fact, it is easy for even smaller players to acquire and install panels on their roof because the number of panels is planned in relation to the size of the property and the suitability of the roof. The latest example of a company that has joined the solar panel boom is 3 Friends who has acquired Helen's solar plant on the roof of its ice cream factory in Kivikko in Helsinki as part of its aim to introduce emission-free energy solutions. The company's target is to manufacture 500 litres, or 1,000 tubs, or ice cream every day with its own solar energy – in July and August this amounts to about 60,000 tubs.
"One target that resulted in the building of our own ice cream factory a couple of years ago was the wish to make the best possible energy decisions. Now our factory is heated with Helen's emission-free circular heat, and we are using EKOenergy, which is approved by the Finnish Association for Nature Conservation. We wanted to build solar panels on our roof because they are a concrete way of having an impact on the environmental footprint of ice cream production already in the early stage and not only offsetting any harmful impacts afterwards. Ice cream consumption is at its highest when the sun is shining, so consumption and our energy demand are in perfect sync," says Heikki Huotari, co-founder and managing director of 3 Friends.
"We aim to make better decisions in terms of people and the environment whenever we can, and solar panels are a brilliant way to make ice cream with emission-free energy. All methods of reducing emissions are a bonus, and the rest of the demand is produced with eco-electricity. The process of acquiring panels was also easy: within a few months of deciding on the panels, we had them on the roof," he continues.
Liquorice & Raspberry is the hit flavour of the summer
3 Friends uses solar energy for manufacturing all of its ice creams. In addition to more climate-friendly energy solutions, 3 Friends takes the environment into account by offering alternative consumer choices also in the form of plant-based ice creams.
"This summer, the most popular ice creams in addition to the all-time favourite flavour, Raspberry & White Chocolate, are Mandarin & Yoghurt Chocolate, as well as the vegan Liquorice & Raspberry, which is the absolute hit flavour of this summer. It combines all our targets for vegan ice cream – to make ice cream that is so good that opting for plant-based ice creams is not a compromise," Huotari says.
FACT: Frequently asked questions about solar panels – and the answers
How much maintenance do solar panels need? The panels are relatively maintenance free, but it is advisable to check them regularly, about once a year. Electricity companies also offer maintenance as an extra service.
Does the roof withstand the weight of solar panels? The roof load is measured before installing the panels, using various solutions to ensure that the weight does not increase too much. A normal roof in a good condition usually supports the weight of the panels very well.
Can birds build a nest by the solar panels? There are no known cases of birds nesting by solar panels. The only potential problem is that bird droppings may cover panels and that way reduce their yield, in which case it is advisable to clean them.
Can a company apply for aid to acquire solar panels? Yes. Business Finland grants Energy Aid for the acquisition and installation of solar panels. For example, 3 Friends applied for this aid, which was granted in the spring. From the beginning of 2017 until May this year, Business Finland granted aid for about 1,200 solar power investments, and the number of aid applications continues to rise. The aid percentage is 20% and the investment must be worth at least 10,000 euros. Aid can also be granted regardless of company size, from sole traders to listed companies. The organisation applying for the aid must be able to prove that it will use the produced electricity itself or that it has a buyer for the produced electricity. Therefore, aid is not granted for solar power systems that have no targeted use for the electricity it produces.
Read more about the topic