News / 23.7.2021
Meadow roof in Munkkisaari brings colourful meadow flowers into the city
The meadow roof project on the roof of the Munkkisaari heating plant was launched in May 2020. Now, the meadow roof displays an array of plants, attracting an abundance of pollinators. The meadow plants also bring joy to the local residents and passers-by.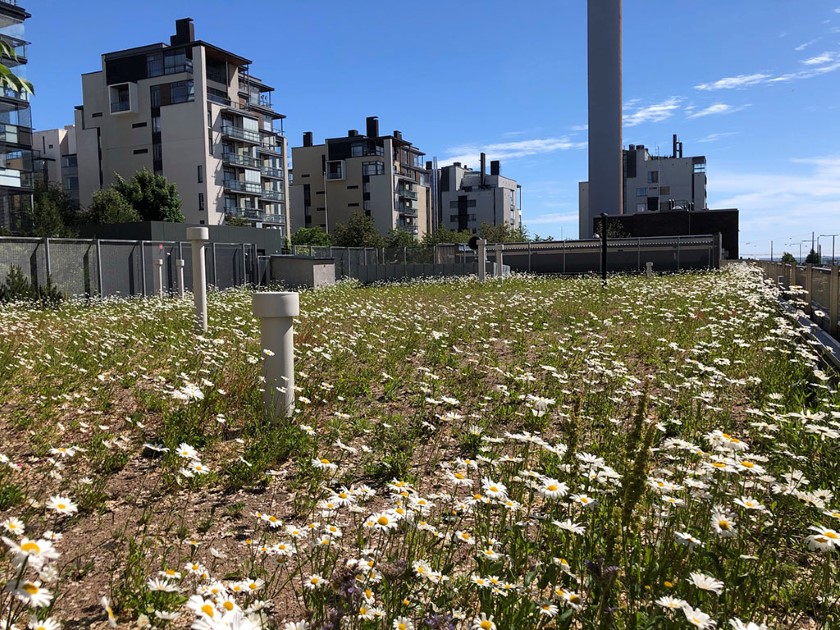 Helen is visible in the Helsinki cityscape in many ways. Therefore, the company wanted to make the urban environment more welcoming together with the residents and experts. In Munkkisaari, the area of the living roof that is completely covered with vegetation is 800 square metres, and anyone is welcome to admire the growing meadow from the other side of the fence.
The purpose of the meadow roof project is to promote biodiversity, improve the cityscape, increase inclusion and raise environmental awareness. The meadow roof project continues the theme of modifying various underutilised facilities as part of the green infrastructure in accordance with the Green Infra concept, which started with the installation of the Punavuori Pollination Station. The project has been implemented in cooperation with the design company RaivioBumann and the Fading Nature project of the University of Jyväskylä.
"We went to take a look at the meadow together with biologists, who found that the meadow is in good shape. Many species of plants are growing in the meadow. Some of the planted species have not been successful, which is perfectly normal as the meadow has a life of its own. An abundance of pollinators have been spotted there. The next plants to flower in the meadow are corn daisies, which were already in bud," says designer Päivi Raivio of the design company RaivioBumann.
Many of the local residents have a direct view from their windows to the roof of the heating plant. The colourful meadow plants have been a source of delight to residents and passers-by alike. Based on client feedback collected by the design company RaivioBumann, local residents have been happy and glad to be able to enjoy the meadow scene and its colourful flowers in the middle of the city:
"The city feels closer to nature and reminds me of the wonderful meadows of my childhood, which you don't get in the urban environment."
"I walk past there every day, and it makes me really happy that we have this in our own "front yard."
"Flowers are always more interesting to look at than a boring lawn."
"More of this, please! An excellent idea!"
Read more about the topic