News / 11.7.2022
Helen continues significant investments in wind power by purchasing two wind farms
Helen continues its significant investments in renewable energy by joining forces with the Ålandsbanken Wind Power Fund to acquire the Juurakko and Karahka wind farms in North Ostrobothnia from the international VSB Group. The investment supports our carbon neutrality target set for 2030 and our accelerated transition to carbon-neutral energy production and a distributed energy system. At the same time, we want to meet the needs of electrifying society and increase our energy self-sufficiency and the production of domestic, emission-free energy.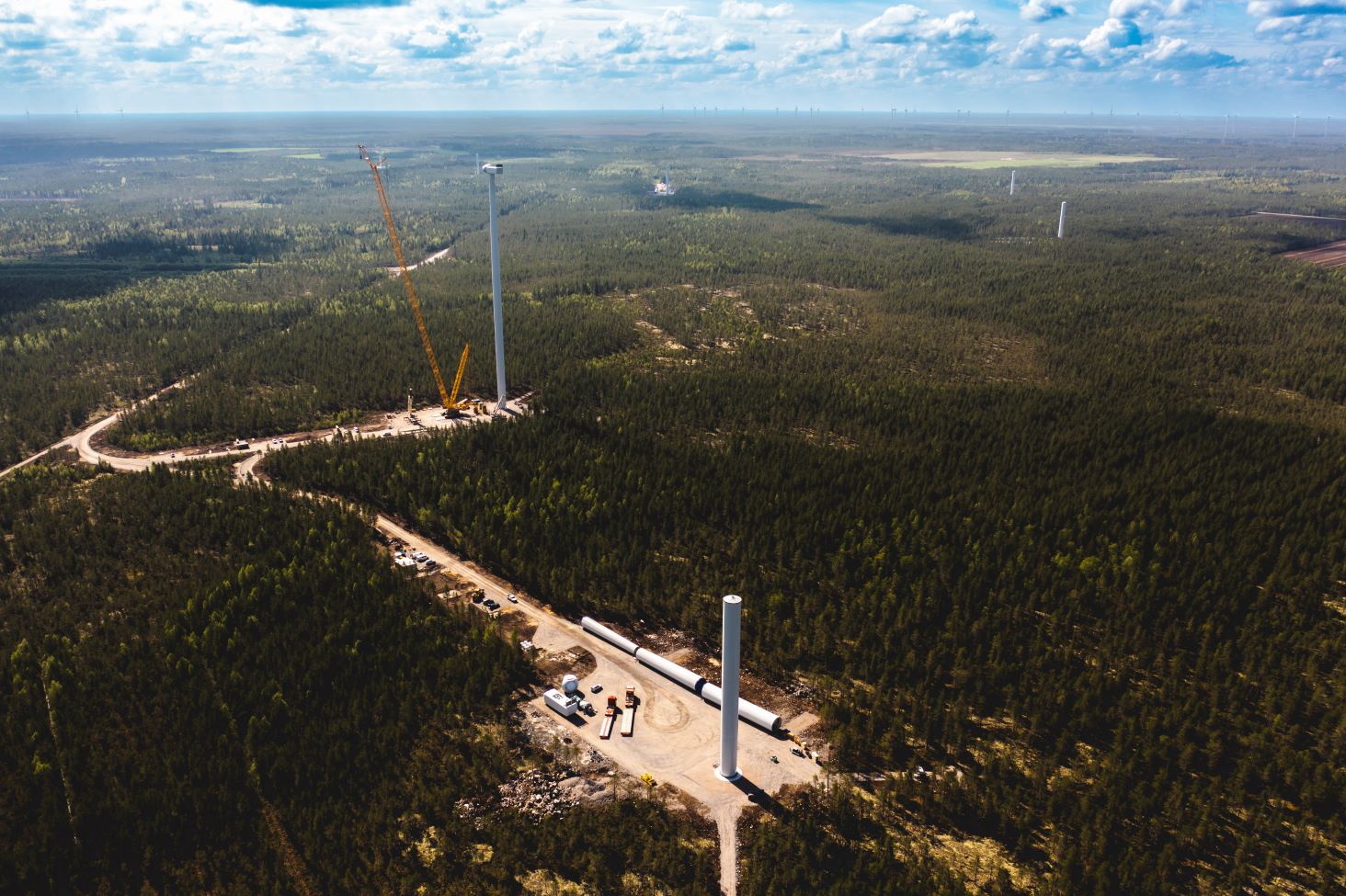 - Wind power is a clean method of electricity generation, as well as an excellent means of meeting the rising demand for electricity and increasing our energy self-sufficiency. The acquisition of the Juurakko and Karahka wind farms together with our partner, the Ålandsbanken Wind Power Fund, is continuum of our good cooperation and our strategy to promote wind power production. It also supports our investment in renewable energy production in accordance with our strategy. As a result of these latest acquisitions, wind power is expected to account for one-third of our electricity production in 2025 when more than 90% of our total production would be emission-free, says Antti Sallila, Helen's SVP, Strategy, Mergers and Acquisitions.
Located in Kalajoki (Juurakko 40 MW) and in Oulainen (Karahka around 150 MW) in North Ostrobothnia, the wind farms will have a total of 32 turbines. The Juurakko wind farm is currently under construction. The turbines arrived on site already in June, and the farm is scheduled for completion during 2022. The construction work at Karahka will start in autumn 2022, and the wind farm is scheduled for completion at the end of 2024. Helen is the majority shareholder of the wind farms.
"Juurakko and Karahka are the third and fourth investment objects of our wind power fund. It is especially great to extend our cooperation with Helen. After completion, the annual production of the wind farms we own together will exceed 1 TWh. These significant investments offer our investors an opportunity to directly own domestic wind power, the role of which in achieving Finland's climate targets and increasing the country's energy self-sufficiency has been highlighted further," says Jimmy Forsman, Portfolio Manager of Ålandsbanken Rahastoyhtiö.
"We are extremely happy that it is possible to buy electricity produced in wind farms, which we have developed and constructed in Finland, via a Finnish energy company. Due to the global situation, increasing domestic energy production is more important than ever. We are glad that our partner with Juurakko and Karahka is a long-standing Finnish energy company such as Helen together with Ålandsbanken," says Seppo Tallgren, Managing Director of VSB Uusiutuva Energia Suomi Oy.
We have actively increased our own wind power production. Our first joint wind power investment with Ålandsbanken Wind Power Fund is the 165 MW Kalistanneva wind farm of 30 turbines located in Kurikka. The construction of which started in early 2022. The 20 wind turbines of the Lakiakangas 3 wind farm started regular electricity production in early 2022. Our joint project with Fortum in the environs of Närpiö and Kristiinankaupunki, which is under construction, consists of two wind farms with a total of 56 wind turbines and a total capacity of 381 MW.
Photo: Joona Mäki, Huuru Media
Read more about the topic