News / 3.2.2022
Helen further increases its wind power production with a new investment
Helen continues to invest in renewable energy and has, together with the Bank of Åland's Wind Power Fund Non-UCITS, acquired Kalistanneva wind farm from the French independent green energy operator VALOREM.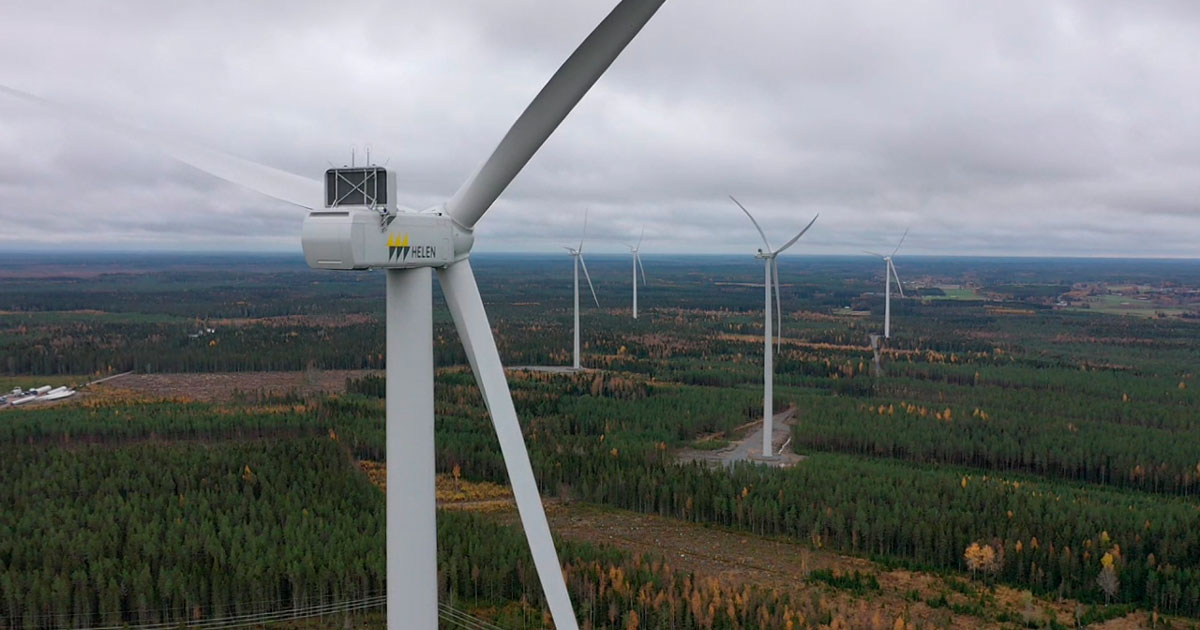 The investment is another concrete step towards our aim of being carbon neutral by 2030 and supports our transition to carbon neutral energy production and to diversified energy system. Wind power is one of the ways we bring the new era in energy available for all.
Helen's Senior Vice President, Strategy, Mergers and Acquisitions Antti Sallila comments: "The acquisition of Kalistanneva wind farm with our partner Bank of Åland's Wind Power Fund is an important step in Helen's path towards carbon neutrality and continues our strategy to increase wind power production, which will now be above 1.5 TWh annually after the Kalistanneva farm starts production."
The wind farm, located near Kurikka in the region of Ostrobothnia, will host 30 wind turbines with total installed capacity of 165 MW. It will supply the equivalent of the electricity consumption of 60,000 households each year. The construction will start in April 2022 and the wind farm is estimated to be in full operation in January 2025. Helen is the majority shareholder in the wind farm.
The Bank of Åland's Wind Power Fund is the only open-ended fund in Finland investing in wind, and Kalistanneva wind farm is the second investment of the fund. "Investing in the large-size wind farm of Kalistanneva together with Helen presents an excellent opportunity to our investors to benefit from the value of the growing Finnish wind power market. The investment is also perfectly aligned with our target to increase the domestic ownership of wind farms in Finland", says Juha Känkänen, Investment Director at Ålandsbanken Funds.
Helen has actively been increasing its own wind power production. Lakiakangas 3 wind park with 20 wind turbines started producing electricity in the beginning of 2022 and in December 2021 we announced that together with Fortum we will be building two wind farms with 56 wind turbines altogether to Närpiö and Kristiinankaupunki.
About Helen
Helen Ltd helps to make everyday life a little easier for over 600,000 customers in Finland. In addition to heat, cooling and electricity, we offer solutions for regional and renewable energy, smart buildings and electric transport. We are developing a smarter, carbon-neutral energy system that enables everyone to produce, use and save energy with respect for the environment. We aim to achieve 100% carbon neutrality in our energy production by 2030. Let's join forces and turn the opportunities of a new energy era into reality.
More information: www.helen.fi
About the Bank of Åland
The Bank of Åland is a Finland-based bank with strong customer relationships and personalized service. The Bank has extensive financial investment expertise and at the same time can offer good financing services. The commercial bank was founded in 1919 and has been listed on the Nasdaq Helsinki Oy (Helsinki Stock Exchange) since 1942. Ålandsbanken Funds Ltd is the fund management subsidiary of Bank of Åland Plc.
More information: www.alandsbanken.fi
About VALOREM
The VALOREM group is an independent French operator in the field of green energy. It masters the entire process of renewable energy development, from development to operation and maintenance, including project management assistance, construction and auditing services. A pioneer in wind energy in France, with more than 360 employees, VALOREM is also present in the French West Indies, Colombia, Finland and Greece. The group manages more than 550 MW in production and has a portfolio of more than 5 GW of in-development projects. VALOREM is certified ISO 9001 - quality, ISO 14001 - environment, and ISO 45001 - occupational health and safety.
More information on: www.valorem-energie.com
Read more about the topic