News / 29.6.2022
Helen to become alliance partners together with YIT and ACCIONA in seawater heat recovery project
Helen has selected YIT and ACCIONA, a Spanish developer of sustainable infrastructure solutions, as alliance partners for a tunnel system in a seawater heat recovery project in Salmisaari, Helsinki. The work will start with a two-year development phase, for which a contract will be signed.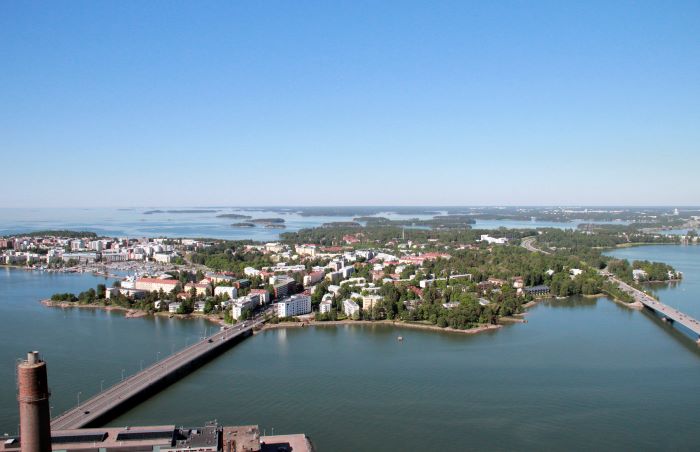 Work will start after the end of the appeal period in July 2022, and the development phase is expected to last until autumn 2024. At the end of the development phase, a decision will be taken to move to the implementation phase, which will last approximately five years.
The seawater heat recovery project will supply seawater all year round to the heat pumps to be built in Salmisaari. The heat pumps will use even less than +2 degrees Celsius seawater and electricity for district heating production. Produced heat is delivered to customers via the district heating network. In addition, during the summer, heat pumps can be used to produce cooling energy for the district cooling network. The heat from seawater is renewable, and the heat source is inexhaustible.
- Helen recognises that seawater heat pumps have an important role in the transition towards a distributed energy system where energy is generated from several sources. The energy platform, i.e. the heating and cooling network, provides an opportunity to combine innovative technologies and production methods. YIT and ACCIONA bring key expertise to the project, says Timo Aaltonen, Helen's SVP, Energy Platform and Production Solutions.
- We are very proud to have been selected to execute this project together with YIT. This is our first project in Finland and will be the first Tunnel Boring Machine (TBM) project in Finland. I am convinced that, together with our client, we will be able to carry it out successfully providing to the alliance team our massive Tunnel Boring Machine worldwide experience, said Huberto Moreno, CEO Construction of ACCIONA
Supporting carbon-neutral heat production, the seawater heat pumps are designed to be located in the Salmisaari power plant area. Heat pumps that utilise ambient and waste heat play a key role in Helen's target of achieving carbon neutrality by 2030.
- It is great to be able to develop and implement a project that is unique in Finland and is right at the heart of our strategy. It will allow us to use our diverse expertise, including excellence in rock construction and at the same time contribute to both YIT's and Helen's ESG goals, says Pasi Tolppanen, EVP, Infrastructure segment at YIT.
Read more about the topic