News / 22.12.2022
Helen's public EV charging network expands – high-power charging stations operating on wind power to be available at Puuilo stores
In future, charging of electric vehicles can be done easily while doing your shopping when Helen opens new charging stations in connection with outlets of the Puuilo department store chain. Rapid high-power charging stations will become part of our growing EV charging network, and they will be available to all users of Helen Lataus.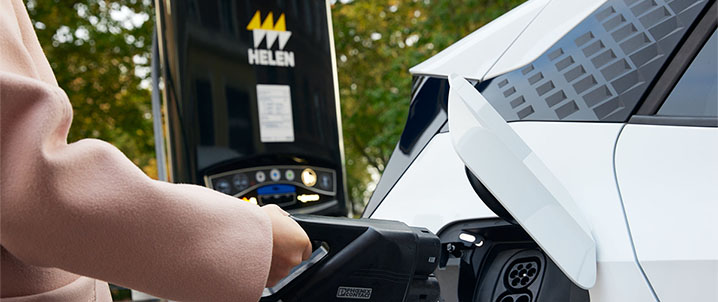 The first charging stations in connection with the Puuilo stores will be built at six different sites: in Rusko in Oulu, Joensuu, Raisio, Lieto, and Pori, and in the new store in the capital region. There are also plans to expand the charging network later to other outlets of the chain.
"We believe that by expanding the EV charging infrastructure we can increase the appeal of driving EVs, and we are glad to be able to offer Puuilo's customers the opportunity to charge their vehicles conveniently in connection with visiting the store. The needs of EV drivers have indeed been paid particular attention in the planning of the charging stations. For example, the charging stations have been designed as a drive-through area, which makes it possible to enter the station with a trailer," says Heikki Saarilampi, Helen's Product Group Manager for EV Charging.
The charging stations have charging points for both fully electric and hybrid vehicles, and they can accommodate six vehicles at the same time. The charging devices of the stations offering up to 150 kW of charging power are manufactured by the Finnish company Kempower, and customers will be charging their cars with domestic wind power.
"We want to contribute to supporting the building of the charging infrastructure while also offering our customers an efficient and fast charging service in connection with doing their shopping. Helen and we found each other, and we have a shared goal, so it was easy to launch the partnership. It is also important to us that the charging operator is Finnish, and that the charging technology comes from Finland," says Juha Saarela, CEO of Puuilo.
Established in 1982, Puuilo is one of Finland's leading chains of department stores. The almost 40 stores of the growing chain have prime locations throughout Finland, offering a wide range of products from driving to renovation and recreation.
Helen keeps EV drivers in motion
In Finland there are currently almost 150,000 electric vehicles, with all-electric vehicles already accounting for about 30 per cent. The market share of EVs is constantly growing, and therefore there is high demand for their charging infrastructure and services. It is estimated that by 2030 there may be up to 700,000 EVs in Finland. We at Helen are constantly exploring opportunities to expand the nationwide EV charging network.
By the end of next year, the size of our charging network will be doubled, serving EV drivers with its more than 700 charging points. We are focusing on the expansion of the high-power charging network, and our goal is to open more than 180 new high-power charging points by the end of 2023 especially close to highways.
Read more about the topic