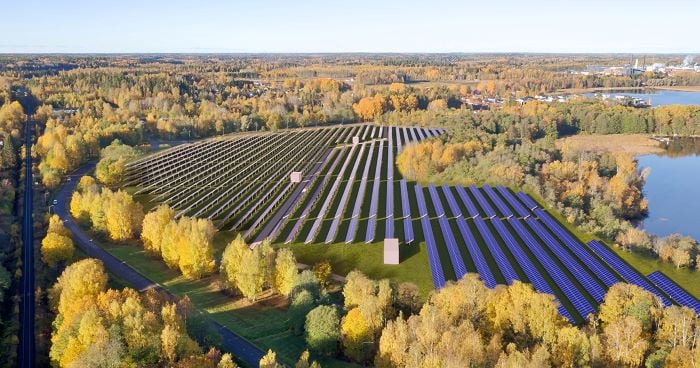 News / 13.3.2023
Helen accelerates investments in solar energy production – industrial-scale solar power plant to be built in Lohja during next year
Helen is building a large-scale, ground-mounted solar power plant of ten megawatt-peaks in the Kirkniemi area in Lohja. When completed in 2024, the solar power plant will be one of the largest in Finland, producing ten gigawatt-hours of renewable domestic electricity per year. The investment supports Helen's target of achieving carbon-neutral energy production in 2030, by which time renewable solar and wind power estimation will account for approximately 60 per cent of the company's electricity production. It is also in line with the Towards Carbon Neutral Municipalities project in Lohja.
Photos: Arkkitehtitoimisto Virkkunen & Co.
"In the same way as wind, the sun is a cornerstone of a sustainable energy system. For example, a hydrogen economy requires a huge amount of more wind and solar energy, which balance each other out. Solar energy is a clean method of producing electricity and also an excellent way to increase energy self-sufficiency and meet the growing demand for electricity. Our target is to build several hundreds of megawatts of domestic solar power capacity over the next few years. This supports our investment in renewable energy and our accelerated transition to carbon-neutral energy production in accordance with our strategy," says Sari Mannonen, Senior Vice President, Solutions & Portfolio Development at Helen.
Solar power plants are ideally suited in Finland because it is shown that solar radiation in Southern Finland is at the same level as in Central Europe, and Finland's climate is favourable for the efficient use of solar panels. Solar energy is a great addition to our electricity generation mix and an important part of a sustainable energy system.
"Our solar business has taken off at a brisk speed, and we are among Finland's most well-known experts in solar power solutions. We have international procurement and contracting networks, as well as technical design expertise in solar energy, and therefore expansion to solar power plants is a natural step for us. We are actively seeking suitable locations for solar power plants. We manage the entire value chain from licensing to project development and from implementation to operation, but we are also interested in purchasing turn-key projects," sums up Minna Junnikkala, Head of Solar and Wind Energy at Helen.
Solar energy production in Finland occurs during the light summer months, and it supplements wind power production which mainly takes place outside the summer season. Together, solar power and wind power maintain a steady overall production of domestic renewable electricity, and the regulation capability can be increased further with the help of energy storages. They will also play a vital role in the future in the production of green hydrogen.
The solar power plant in Lohja is Helen's third solar power plant that also includes investment in an electricity storage facility. We see that investments in energy storages are cost-effective, especially when implemented in connection with renewable electricity production. Helen's Nurmijärvi pilot solar power plant of 1.5 megawatt-peaks will be completed in summer 2023, and the Kalanti solar power plant of 206 megawatt-peaks is estimated to be in production towards the end of 2024. The Ministry of Economic Affairs and Employment (MEAE) has granted the Lohja solar power plant funding of EUR 1.58 million from the EU's Recovery and Resilience Facility (RRF). The aim of the subsidy scheme is to provide funding for energy infrastructure projects and new energy technology projects in order to reduce Finland's greenhouse gas emissions and support the country's carbon neutrality targets. The aid includes investment in electricity storage. The project was presented to the City Council of Lohja in autumn 2022, and it has progressed to the processing stage.
Read more about the topic