Solar panels for a housing company
Solar energy is rapidly becoming a popular choice in housing companies in Helsinki: thanks to the rebate calculation service, the electricity produced by a solar power plant can now be utilised by the residents in addition to real estate electricity. The service will become available in late 2020.
Self-sufficient solar power production for a housing company
Affordable electricity
Locally produced electricity is often cheaper than electricity purchased from the network. Solar power is anticipated to become one of the cheapest forms of electricity production already in the next few years, which means that the profitability of the investment will increase further. You will also gain an income from your surplus production, which we will buy at the exchange price.
Value of the property increases
The acquisition of a solar power system increases the self-sufficiency and the value of the property. The system boosts the attractiveness of your housing company when people look for an easy way to get involved in self-sufficient production.
Hassle-free acquisition
We ensure that the acquisition of the system goes smoothly and the shareholders are treated equally all the way from surveying to installation and commissioning. You will get all that is necessary for the acquisition of the system from one reliable actor as a turnkey delivery. In an easy and safe way.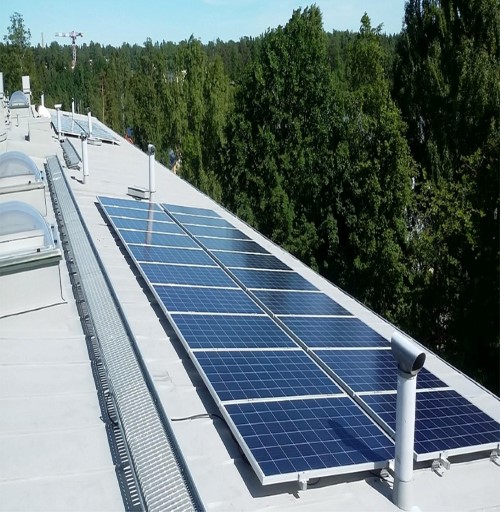 Solar power system as an investment
Profitability and the repayment period are often mentioned when talking about solar power systems. The calculations can be of help when examining the profitability of solar power production.
Repayment period is less than half of the warranty period
The average annual production of a 7 kWp solar power system is 6,000 kWh. Annual saving compared with purchased electricity, calculated with the current price of environmental electricity, 15.5 c/kWh, is €930.
It can be calculated that the value of the apartments of a housing company will increase with a solar power system by a moderate €100 per apartment, which means €4,000 in a housing company of 40 apartments.
When this share is deducted from the purchase price, and the housing company's own solar power production is compared with purchased environmental electricity, the repayment period thus gained is just around 7 years.
Saving in purchased electricity exceeds the acquisition costs
The production of a 7 kWp solar power system taking a decline in production into account during the warranty period of the system, i.e. during 25 years, is about 140,180 kWh.
The average price for basic electricity, i.e. electricity according to the most popular electricity contract, for the next 25 years is estimated to be 16 c/kWh. In that event, the solar power system will bring a saving of €22,430 for the housing company during its warranty period compared with purchased electricity.
Frequently asked questions about acquiring solar panels for a housing company