News / 1.9.2015
Good output from the new solar power system in Pasila
The solar power system delivered by Helen, consisting of 101 panels on the roof of the Otavamedia offices in Pasila, has already generated over 7,000 kWh of electricity since the beginning of July. This corresponds to the annual consumption of one detached home.
The solar panels were installed on the roof of the Esterinportti offices of Otavamedia at the end of June. The panels started production at the turn of the month from June to July. The output of the entire system is about 28 kWp.
The renewable energy generated by the solar power system is used by the property itself.
– The amount of electricity produced by the solar power system already in such a short period of time corresponds to the annual consumption of a single detached home. In one year, it will produce about 24,000 kWh of electricity, meeting about four per cent of the annual electricity consumption of the property, explains Timo Huolman of Helen.
Otavamedia studied the roof surfaces of its offices in partnership with Helen's experts and, based on the results, Esterinportti was chosen as the first site for gathering experiences of the functioning of the solar power system. Solar power systems may also be planned for other properties of the Group in the future.
– We have been very happy with the Esterinportti solar power system. The installation was surprisingly quick and trouble-free and, based on the information we have received so far, the system will even exceed its estimated annual energy production, says Wilhelm Ehrnrooth of Otava.
Two options
Helen offers two options for producing solar electricity: hiring a designated panel or having your own solar power system built according to your personal requirements and the property's specifications. The size of a solar power system may vary from small installations for a detached home to entities of hundreds or thousands of panels.
Helen has two large solar power plants, which operate on the principle of designated panels: anyone can start producing solar electricity by hiring a designated panel for a monthly fee. The Suvilahti power plant, which is already in operation, has 1,194 solar panels, and the Kivikko plant under construction will have 3,000 solar panels.
Helen also utilises solar heat by collecting it into the district heating network with the district cooling system.
Facts:
• Property: Otava Group's offices at Esterinportti 1, Pasila, Helsinki
• Size of solar power system 28 kWp, 101 panels in total
• Roof area over 200 square metres
• Installation schedule June 2015
• Estimated annual generation 4% of all electricity consumed by the property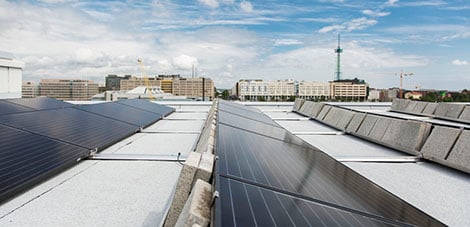 Read more about the topic