News / 19.6.2017
Etola gets electricity from its own solar plant
Since spring this year, Etola has used solar power generated on site at its own premises in Suutarila.
The solar power plant consists of 720 panels that are slightly more efficient than normal, and the overall output of the plant is 201.6 kWp. The plant produces 165,000 kWh of electricity per year, corresponding to the electricity consumption of 82 one-bedroom apartments. A computer screen will be installed in the store so that customers will be able to monitor the plant's production in real time.
Helen Ltd is responsible for the maintenance of Etola's solar power plant. Etola continues to purchase electricity smoothly in the same way as before. However, some of the electricity will come from the solar power plant in its own premises.
– All roofs are different. The roof wool in this building is soft, and therefore we have ensured even distribution of the weight of the solar panels by using a wider rack profile than normal, explains Helen's Head of Solar Business Atte Kallio.
GreenEnergy Finland (GEF) was responsible for the installation of Etola's solar plant. The system incorporates new technology developed by GEF.
Solar plant with no investments
Helen aims for a climate-neutral future. Helen is increasing the share of renewable energy in its own production and also wants to support the efforts of other companies towards more climate-neutral energy generation.
Helen's 'Solar plant with no investments' model is the most risk-free alternative to businesses. The service fee is tied to the profit of the solar plant. If the plant makes no profit, the customer will not pay either.
The price of solar power generated by the customer's own power plant is usually lower than electricity purchased from the network. As a rule, this requires a roof space of over 1,000 square metres, accommodating about 400 solar panels.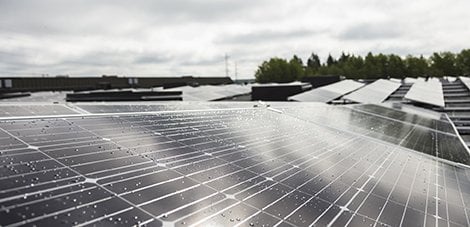 Read more about the topic