News / 13.6.2018
New underground heating and cooling plant utilises excess heat
Helen's underground heating and cooling plant located under the Esplanade Park has been completed, and trial operations have started. The large heat pumps produce both district heat and district cooling. They recover a significant amount of excess heat from properties for utilisation in heat production.
The new heating and cooling plant is located under the Esplanade Park at a depth of some 50 metres. A gigantic cooling accumulator of 25 million litres is also located in connection with the plant. Together they form the underground Esplanade cooling centre.
These two newly completed heat pumps that produce heat and cooling are large entities with their pipework.
The Esplanade heat pumps replace some of the fossil fuels used in Helen's energy production and reduce carbon dioxide emissions by more than 20,000 tonnes a year.
"A substantial amount of excess heat is captured from properties with the new heat pumps and utilised in heat production," says Helen's Project Manager Eero Kaartokallio.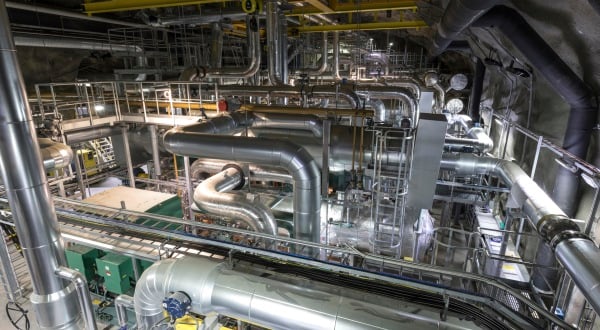 A step towards climate neutrality
The heat pumps operate together with the Esplanade cooling accumulator.
"Due to the heat pumps, the output of the cooling accumulator increases, and the cooling output of the entire plant will be 50 megawatts. By way of comparison, this would meet the cooling need of the Parliament House 35 times over," Kaartokallio explains.
The district cooling system in Helsinki is the third largest in Europe, and it is the most rapidly growing cooling system in Europe.
"Helen aims for climate-neutral energy production, and the heat pump investment is one of the measures towards achieving this target. The heat pumps are also an answer to the growing demand for district cooling in Helsinki," says Helen's Director Heikki Hapuli.


FACTS
The Esplanade heating and cooling plant
Two new heat pumps: 2 x 11 MW of heat and 2 x 7.5 MW of cooling.
The plant will be available for production use in summer 2018.
The heat pumps will increase the total cooling output of the Esplanade cooling centre to 50 MW (new heat pumps 15 MW and the existing cooling accumulator 35 MW).
One heat pump entity is about 11 metres long, about 6 metres wide and about 5 metres high.
The heat pumps are supplied by Johnson Controls Finland Oy.
The value of the total investment is over EUR 10 million.
Helen produces a major part of district cooling in Helsinki in the world's largest plant producing district heat and district cooling, the Katri Vala heating and cooling plant located in Sörnäinen.
Read more about the topic