News / 6.6.2019
Finland's first worksite cyclist is now mobile
In early 2019, Helen and Helen Electricity Network were recruiting a worksite cyclist to develop and improve the traffic arrangements and interaction of district heat and electricity network sites. Aleksi Pippuri, a student of mechanical engineering and building technology, was selected for the position, and he has now started his task in the development of worksite traffic arrangements.
Pippuri spent his first few working days attending various induction events. Finland's first worksite cyclist has jumped on his bicycle.
"I am looking forward to having a positive influence on the townscape of Helsinki and on travelling around town through my own work. My most important tasks are to develop worksites and to make people understand better what is going on in our worksites."
20-year-old Pippuri, who enjoys off-road cycling and video making in his free time, is ready to take on the challenges of his unusual summer job.
"The work is related to my field of study, combining my interests and hobbies. This is truly a unique opportunity for me," he enthuses.
Pippuri encourages city dwellers to give open and direct feedback on worksites.
"Please get in touch, and feel free to come and have a chat! We want to improve the worksites together with the Helsinki residents who are the right people to provide feedback on the matter. You will find me on Twitter by the name @Tyomaat_Helen, and you are also most welcome to come and talk to me if you see me out and about."
Helsinki is preparing for its Presidency of the Council of the European Union starting in July

There are currently an increased amount of refurbishment, renewal and construction work carried out on the electricity and district heating network in Helsinki in anticipation of Finland's EU Presidency starting in July. The works are part of normal network maintenance to ensure that homes will be kept warm and the lights switched on.
What is a worksite cyclist?
The job description of a worksite cyclist includes the testing of traffic arrangements in worksites by bicycle and on foot and by communicating about the worksites.
The worksite cyclist monitors, discusses and develops the worksites together with the city residents while out and about and on Twitter.
The feedback received by the worksite cyclist will be used for developing even more fluent traffic arrangements especially from the viewpoint of cyclists and pedestrians.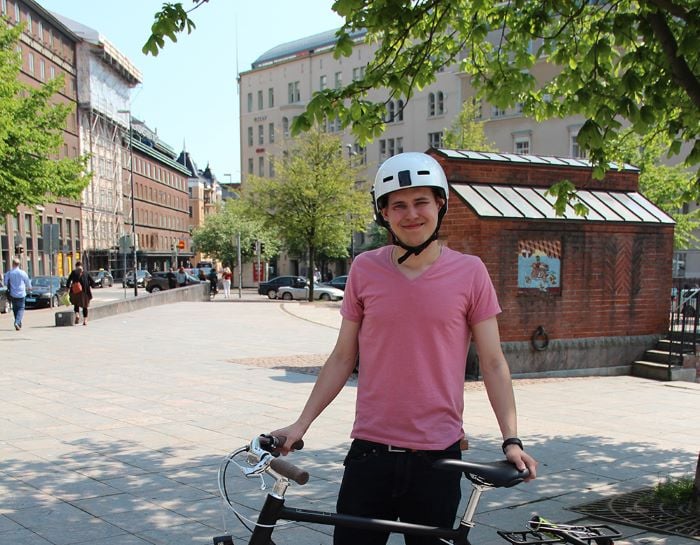 Read more about the topic