News / 16.6.2020
All Helen cooling now carbon-neutral – "Cooling requirement to grow by about 35%"
Buildings in Helsinki can now be cooled with fully emission-free cooling produced by utilising waste heat. From the beginning of this year, all cooling products from the energy company Helen have been carbon-neutral, as only renewable energy sources are used in their production.
Helen's heating and cooling plants run on renewable electricity, which is why district and property-specific cooling is totally emission-free as from this year. The breakthrough is a step towards Helen's target of attaining carbon-neutrality by the year 2035.
Helen's Product Group Manager for heating and cooling products, Anssi Juvonen, says that demand for cooling is clearly growing.
"According to a report by the Finnish Meteorological Institute, the cooling requirement will increase by about 35 per cent from the current level by the year 2050. In addition to climate change, the contributing factors include urbanisation and the improved energy efficiency of buildings: they will be better insulated, so heat won't be lost like in older properties," says Juvonen.
Helen has provided cooling services since 1998, and the present number of properties connected to cooling has already reached 450. The customer numbers are growing at a rate of almost 10 per cent a year.
Upgrade free to the customer
Helen's sustainably produced cooling is available throughout Helsinki, both for commercial premises and housing companies.
"In cooling production, we make use of energy streams that would otherwise remain unused. The largest of our customer groups for cooling are offices and commercial buildings, as well as large property owners with their own carbon-neutrality targets. The change to improved environmental friendliness aids the emission reduction targets of present and new cooling customers, as the upgrade to emission-free cooling incurs no additional costs to the customer," says Juvonen.
Survey: Helsinki residents concerned about climate change
Juvonen points out that carbon-neutrality has become a major theme in the property sector and general discourse alike. A survey commissioned by Helen found that 86 per cent of Helsinki residents believe in climate change, and 83 per cent deem it to be a very (40%) or fairly (43%) serious threat.
The concern over climate issues felt by Helsinki people is reflected in their attitudes as to the degree environmentally responsible choices should be made by individuals. Almost half (48%) of the respondents take the view that responsible choices should be made whenever possible, with a further 45 per cent of respondents being 'fairly in agreement' with the statement.
The survey of 800 respondents was implemented to Helen's order by the M3 Panel maintained by Bilendi Oy on 4-11 December 2019. The target group consisted of Helsinki residents aged over 18, who have left their parents' home and are responsible for their household purchases.
FACT: District cooling and property-specific cooling
In district cooling, water cooled in a heating and cooling plant is delivered to buildings through underground piping crisscrossing across dozens of kilometres from Hernesaari to Pasila and from Salmisaari to Kalasatama. The building is cooled by cold water piped all around the property by equipment installed in the basement.
Property-specific cooling is a solution for buildings that are not within reach of the district cooling network. In this cooling solution, the water for cooling the property is produced by a heat pump installed on the premises.
Any surplus heat from the properties is not wasted, but collected and reprocessed by heat pumps into carbon-neutral district heating. Helen's cooling products permit the efficient recycling of energy, which makes them very environmentally friendly.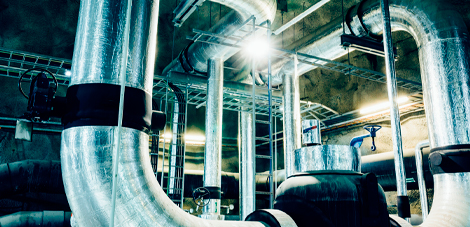 Read more about the topic