News / 10.6.2020
Helen is creating a new heat production model for households with a new pilot project – Ground-source heat to be part of the company's carbon-neutral range of energy solutions
Carbon-neutral heating plays a key role in the reduction of climate emissions. Geothermal heat and ground-source heat complement emission-free heat sources and are well suited for the district heating network. Helen also offers ground-source heat solutions for properties.
During the current year, Helen is implementing pilot solutions for housing companies based on ground-source heat. These solutions are the first of their kind in the Helsinki region. The objective is to create a new heat production model for households, combining the best elements of district and ground-source heat and that way contributing to the ambitious targets of reducing carbon-dioxide emissions in Helsinki and in the entire country.
In future, it will also be possible to offer customers a comprehensive solution based on ground-source heat on a turnkey principle.
"We will provide customers with distributed energy production in addition to district heating and electricity, including solar energy and now also ground-source heat. We are creating a new heat production model that combines the best elements of district and ground-source heat and optimises their use on our way towards emission-free heat production. We are currently seeking pilot sites for the new service in different parts of Finland," says Helen's Product Group Manager Annukka Saari.
In order to achieve the emissions reduction target, changes must take place in all sectors. There is a huge potential for reducing emissions in housing through the improvement of energy efficiency in properties and increasing the use of renewable energy. In order to achieve the carbon neutrality target,
Helen is actively involved in developing and implementing residential solutions that reduce emissions and improve energy efficiency.
Residents are interested in ground-source heat – case-by-case model serves every housing company
Ground-source heat is of interest to residents, housing companies and other property owners. Due to its long life-cycle and self-sufficient, emission-free heat production, a heating solution based on ground-source heat is an attractive alternative to those considering various heating method solutions. Helen is offering ground-source heat solutions for housing companies, properties and urban quarters in Helsinki and elsewhere in Finland.
The development work on ground-source heating solutions is complemented by customer surveys. When you know the customers' needs, it will be possible to define more precisely the contents of the ground-source heat service. The objective is to find an economical and low-emission solution that meets the customer's needs, and through the use of which the customer can take part in the building of a carbon-neutral society.
Ground-source heat solutions are implemented case by case in accordance with the housing company's needs and within the framework of the site and buildings. Moreover, the cost structure is calculated as clearly and transparently as possible so that the customer can choose the best solution for them out of the various alternatives.
"As is the case with other energy solutions, ground-source heat systems must be energy-efficient, ecological and economical. Helen takes the overall responsibility for enabling clean energy solutions and acts as a trendsetter by offering new kinds of renewable energy solutions. Ground-source heat is a good addition to the options when you want to reduce your carbon footprint," says Sari Manninen, Vice President of Helen's Solution Business.
Geothermal heat has a great potential
Helen aims to achieve carbon neutrality by 2035. This year, decisions to invest 300 million euros in carbon-neutrality measures have already been made, and new heat sources are sought constantly. Helen has also followed and investigated the development of geothermal heat for a long time, with cooperation, e.g. with the Geological Survey of Finland GTK. Helen carried out seismic reflection surveys in the Central Park in Helsinki at the end of last year, gathering a lot of information for the planning of geothermal heat solutions.

Facts:
Helen also offers ground-source heat solutions.
Ground-source heat sites can be individual properties or larger areas.
Ground-source heat can also be connected to district heat properties.
The service is being piloted, pilot sites are sought.
In addition to ground-source heat solutions specific to a property or quarter, Helen is also investigating the construction of larger-scale medium-deep and deep geothermal heating plants.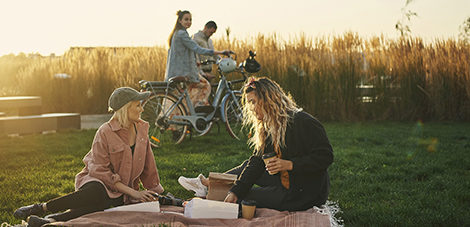 Read more about the topic