News / 10.5.2021
Roni Back, ambassador of Helen's Challenge campaign, which will award grants worth EUR 5,000 to leisure activities, on the coronavirus age: "I've given up the futile FOMO thinking"
For the second year running, the energy company Helen is running a nationwide challenge event to find groups and clubs using video to showcase skills that can spread positive energy. Each of the five winners will be awarded a grant of EUR 5,000, and one of the judges will be Roni Back, the spearhead of Finnish YouTubers, who is acting as patron of the campaign. With the competition challenge, Helen wants to support Finnish leisure activities in uncertain economic times. The application period for clubs and groups is 5 May – 6 June 2021.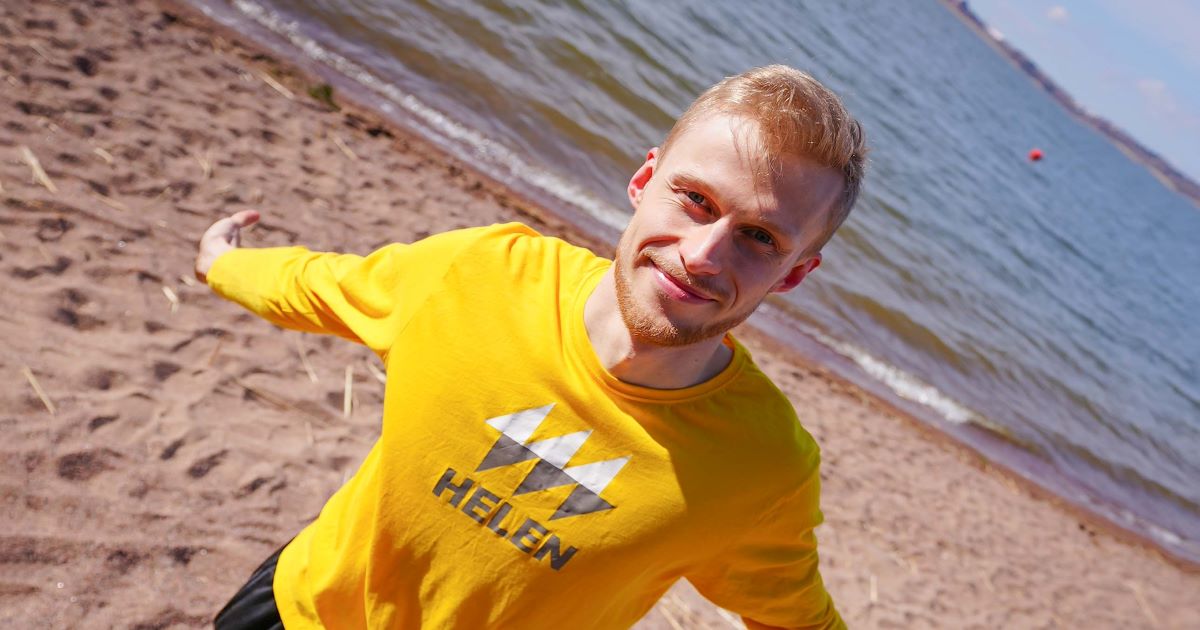 The coronavirus period has affected every one of us, and celebrities like Roni Back are no exception. Abnormal circumstances have brought changes to Back's personal civilian life as well as his work as a social media influencer.
"The biggest annoyance has certainly been that my girlfriend had been aiming for the Olympics for four years, but the Games were cancelled because of the virus. We also intended to travel all over the world now while we are still young and have no responsibilities to hinder travel. However, I've been able to have adventures in Finland, which has been great fun! For example, last autumn I climbed to the top of Halti, the highest point in Finland. The hike covered something like 60 kilometers. Yes, there is plenty to see and experience in Finland as well," says Back.
"As a shy person, I've noticed that meeting new people has become even more nerve-wracking. It happens so rarely these days that one always goes a bit blank when faced with the situation. But I've taken it as a challenge, because you can improve your social skills if you dare to meet the challenge! As for work, I've focused on developing numerous super-great ideas that we'll get to put into practice when the world gets back to normal. My most important job during these exceptional times has been to create feel-good vibes and relief for the everyday lives of others through my videos," the super-popular YouTuber and entertainer goes on.
Lots of new learning – backflip the wildest
Indeed, there has been a particularly strong need to disseminate positive energy over the past year, as many children and young people have found the year of distance learning heavy going. The forced break from hobbies has removed motivation from everyday life and made the learning of new things and developing skills more difficult than before. That's why Helen is encouraging leisure activity groups and clubs to film their skills and send their videos to the competition, through which tricks and other skills may end up being learned by avid experimenters.
In these exceptional times, Back has also drawn good vibes from learning something new and focusing only on what one can influence oneself.
"I've given up the futile FOMO (fear of missing out) thinking. You have to be grateful for the things you can do and not bemoan what you have to manage without. I've spent a lot of time at my cabin, and I'll probably miss it when the world returns to normal and my travels take me to all sorts of other places. I've also learned new skills: I've knitted a beanie, taught myself to walk on a rope and ride a unicycle, and most recently to do a backflip, which was the wildest thing I've ever done."
Back has simple tips for young people to help them cope, and he recommends them to absolutely everyone.
"Don't become passive. Go on adventures. Try new things. Go camping. Jump into the lake even if the water is cold. Go fishing. Collect stamps. Learn to play the guitar. Dare to step out of your comfort area, out of your own bubble where you can easily get stuck. You can do anything, I'm telling you!" the upcoming younger generation entertainment artist for all Finland spurs us on.
You'll do well in the challenge when you bring out the passion and pride
Back was selected ambassador for Helen's challenge campaign precisely because he is a good example of a person who radiates good vibes all around him – a true ambassador of positive energy.
"Roni is upfront and open-minded, as evidenced by his decision to learn the backflip in a week. Roni is sincere, easy to approach and identify with, and he believes in the power of cooperation and the spreading of goodwill. He represents everything that helps you do well in this challenge: good vibes, companionship at its best, the joy of doing things together, a passion for his own thing, and pride in what he does. Creating good energy requires candour, open-mindedness, and belief in making an effort and working together," says Sohvi Salmelin, Director of Marketing and Communications at Helen.
There is a huge hidden force in the clubs
Helen organised a similar challenge campaign for the first time last year, and 72 clubs from Helsinki to Kolari submitted entries. The experience taught Helen a great deal about good energy and spreading it.
"Enthusiasts have a great need and passion to show off their skills and activities. We were actually surprised by how huge a hidden force lies in clubs and groups, and that's exactly what we're trying to harness for this feel-good challenge. At Helen, we are concerned over the impact of the coronavirus period on leisure activities and the wellbeing of children and young people. Maintaining the passion and skills for a leisure activity in these times is especially difficult, and that's why we want to be involved in enabling the sharing of skills and energy acquired from hobbies. In the midst of a pandemic in particular, ways of seeing and paying attention to positive things are worth learning for all of us. We all need perseverance and an ability to get excited about something new now," says Salmelin.
FACT: HELEN'S CHALLENGE
• The application period starts on 5 May at www.helen.fi/hyvänenergianseura and the final entry date is 6 June 2021. The winners will be announced the following week (week 23)
• Groups and clubs from all over Finland can enter
• The aim is to involve as representative a range of hobbies and activities as possible. As well as sports teams, other groups like scout packs and various clubs are more than welcome!
• The group should shoot a video in which it introduces and teaches a skill related to the activity
• A good video inspires the viewer to try the trick and helps them understand what makes the sport or hobby the best ever. A creatively produced video is a big plus!
• Votes from the public will also affect the final result
• The five winners will be rewarded with a grant of EUR 5,000 and will also have their work published on Helen's social media channels
Read more about the topic