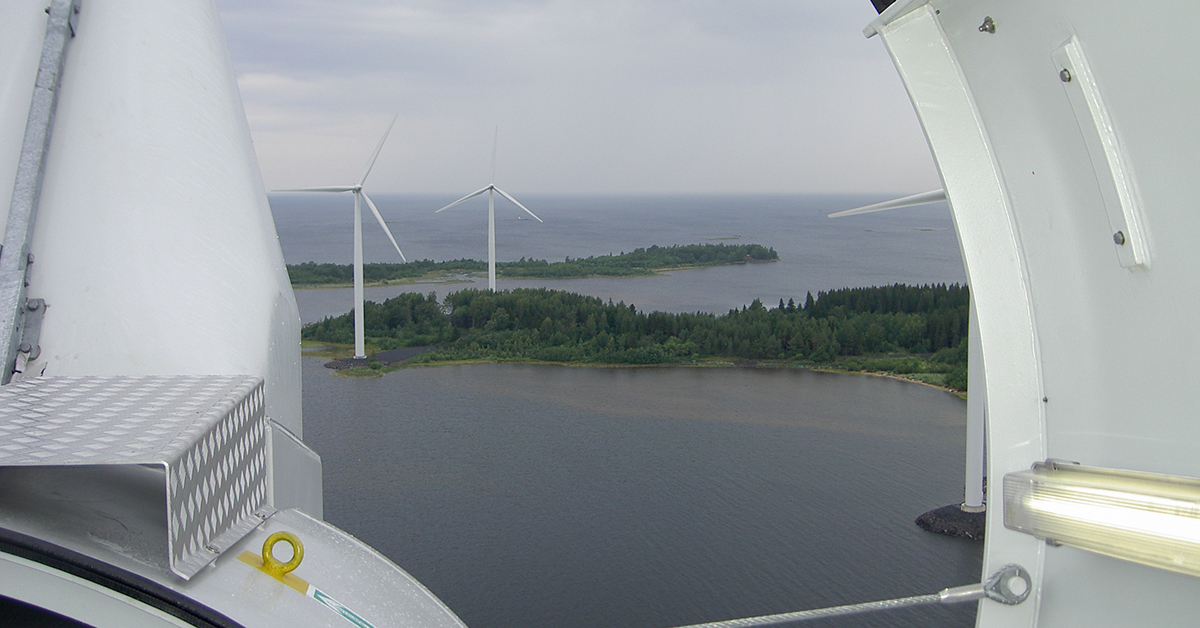 News / 8.12.2022
Wind power is a fundamental pillar of a sustainable energy system
2022 has been a triumphant year for wind power at Helen. The 20 wind turbines at our Lakiakangas 3 wind farm started regular electricity production in April and the seven turbines in Juurakko in November, and we have also reported on three other large-scale wind power investments in the Kalistanneva, Karahka and Niinimäki wind farms during the year. Helen's total volume of electricity produced by wind power is also increased by Suomen Hyötytuuli's investments in the Oosinselkä and Siikajoki wind farms.
"During 2022, Finland's wind power capacity has grown by a staggering amount of more than 50 per cent. This is due to the fact that wind power is not only a sustainable choice from a climate perspective, but also a reliable and economically viable form of producing electricity. For the same reasons, wind power will become the new backbone of Helen's electricity production. With the current projects and those still in construction stage, we have moved from words to action," says Pekka Tolonen, Vice President, Wind Power at Helen.
Investments in wind power are a climate issue but also an investment in Finland's energy self-sufficiency and security of supply. As a result of our significant wind power investments, wind power is expected to constitute a large part of Helen's electricity production in 2025 when more than 90 per cent of our total production will be low-emission. In the same year, our annual wind power production will exceed the amount of electricity previously produced by coal. The investments are concrete steps towards our carbon-neutrality target set for 2030 and they support our transition to a sustainable energy system.
Efficient construction of wind power requires cooperation
We have implemented all of the four wind power investments we have announced this year in partnership with Ålandsbanken Wind Power Fund. The 40-megawatt Juurakko wind farm in Kalajoki started regular electricity production in November 2022. Located in Oulainen, the 148-megawatt Karahka wind farm is scheduled for completion at the end of 2024, and the 165-megawatt Kalistanneva in Kurikka will start operations in January 2025. A total of 22 wind turbines will be built in the 145-megawatt wind farm of Niinimäki in Pieksämäki, which, once completed by the end of 2024, will be the largest wind farm in Eastern Finland.
The Lakiakangas 3 wind farm owned together by Helen and CPC Finland and located in the area of Isojoki and Kristiinankaupunki has been in regular production use since April 2022. A wind farm of 56 wind turbines is also under construction in the environs of Närpiö and Kristiinankaupunki in partnership with Fortum. The total capacity of the wind farm is 381 megawatts, and it will be completed by the second quarter of 2024 at the latest.
In addition, Suomen Hyötytuuli has reported on two new wind farms this year. Helen's wholly-owned subsidiary Oy Mankala Ab is one of the shareholders of Suomen Hyötytuuli. The construction of the 93-megawatt Oosinselkä wind farm located in the Pori and Eurajoki region was launched in spring 2022, and its 15 wind turbines will start regular electricity production at the beginning of 2024. Mankala has a 25 per cent share in the Oosinselkä wind farm. A 243-megawatt wind farm of 38 turbines to be built in Siikajoki in North Ostrobothnia will be commissioned during 2025. Mankala has a 12.5 per cent share in the Siikajoki wind farm.
Read more about the topic