News / 4.12.2020
Carbon-neutral cooling for the refurbished section of Shopping Centre Hertsi – Helen's cooling available in all districts of Helsinki
The cooling of the refurbished section of Shopping Centre Hertsi in Herttoniemi will now be implemented with Helen's carbon-neutral cooling. The section previously known as Megahertsi is currently the largest property with cooling outside the district cooling network.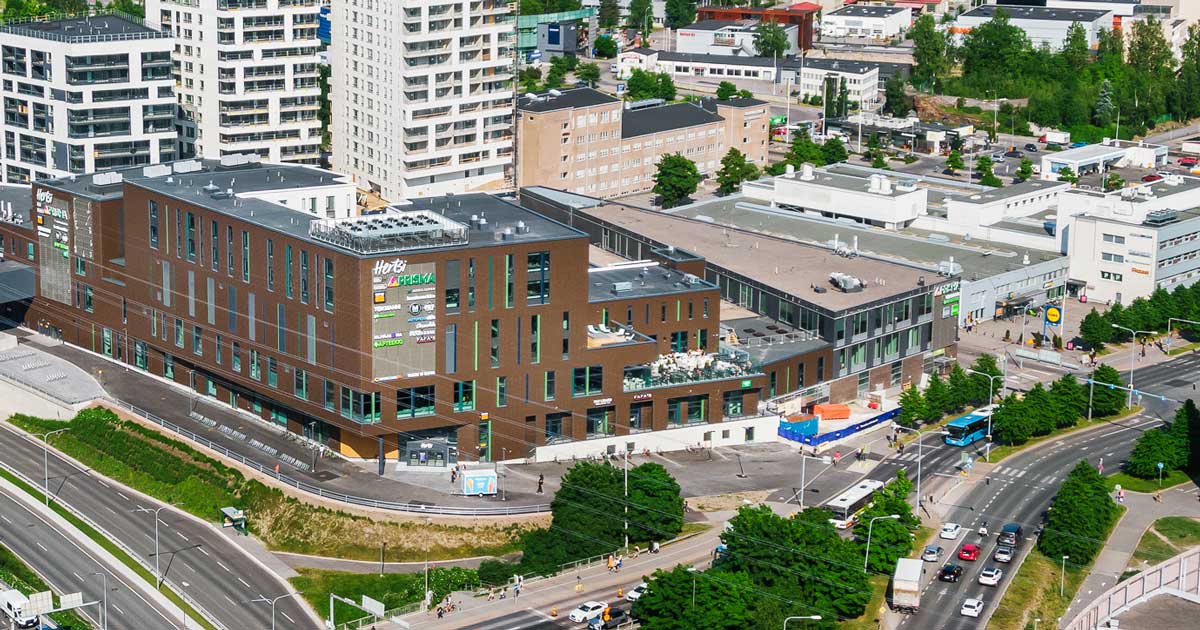 Completed in spring 2020, Hertsi has about 50 retail premises on two floors. The shopping centre is visited by more than 200,000 customers each month. In the renovation of the old Megahertsi part of the shopping centre, which was completed in November 2020, new retail premises were built and refurbished and the appearance was harmonised with the new part of Hertsi. The cooling system was also replaced at the same time.
Special Investment Fund eQ Finnish Real Estate selected Helen's property cooling as a service for the Megahertsi section, which it manages. This means that Helen owns the heat pumps, which produce cooling and are installed in the property, and it will also be responsible for their maintenance.
"Due to the fixed initial investment and predictable costs, cooling produced as a service was an easy choice. The turnkey solution felt like an obvious answer especially as the supplier is among the absolute best in its field," says Kimmo Alaharju, Real Estate Director at eQ.
The advantages of Helen's cooling, i.e. energy efficiency, security of supply and hassle-free service, can be achieved with property cooling in all parts of Helsinki, whether you are in Herttoniemi, Pitäjänmäki, Malmi or Itäkeskus.
"There is a demand for cooling in all property types, ranging from limited liability housing companies to retail premises, shopping centres, and hotels. eQ made a responsible choice by opting for Helen's carbon-neutral cooling," says Helen's Account Manager Antti Tilamaa.
Waste heat gathered with cooling is recycled into the district heating network
The heat pumps installed in the customer's premises are connected to the district heating network where the heat collected through cooling is condensed. That way, Helen's cooling recycles heat, which would be unutilised when using other cooling methods.
Recycling of energy is one of the means by which Helen's strives towards its target of a carbon-neutral energy system and which enable the solutions of a new energy era for the customers.
"eQ aims for continuous real estate development and discovering of new carbon-neutral solutions. In all largest projects, we always investigate the possibilities of local production of heating and cooling energy. At this site, Helen's solution proved to be sensible in the long term, especially as the site's water cooling systems were at the end of their life cycle at the same time. This way, roof space was also released for a more extensive solar power plant," says Alaharju.
Facts
Helen's cooling is available as property cooling throughout Helsinki.
Measured by the cooling output, the refurbished part of Hertsi is Helen's largest cooling property outside the district cooling network. The cooling output is about 800 kW.
In property cooling, cooling is produced with heat pumps installed in the customer's property.
Helen's cooling is carbon neutral.
Cooling is available as a service where Helen owns the equipment and is responsible for its operation.