Data centers become carbon neutral
We are a partner to data centers, enabling carbon neutrality and reduced costs. In our energy platforms, heat is utilised for the heating of Helsinki.
Utilising waste heat
As a result of digitalisation and electrification, electricity consumption in data centers is also growing to a significant extent. Data centers also produce a large amount of waste heat that Helen can recycle for the heating of Helsinki.
At best, just one data center can heat more than 20,000 apartments in Helsinki, replacing the use of fossil fuels as a source of energy.
This way, a data center can reduce its costs, improve its operational reliability and take part in climate change mitigation.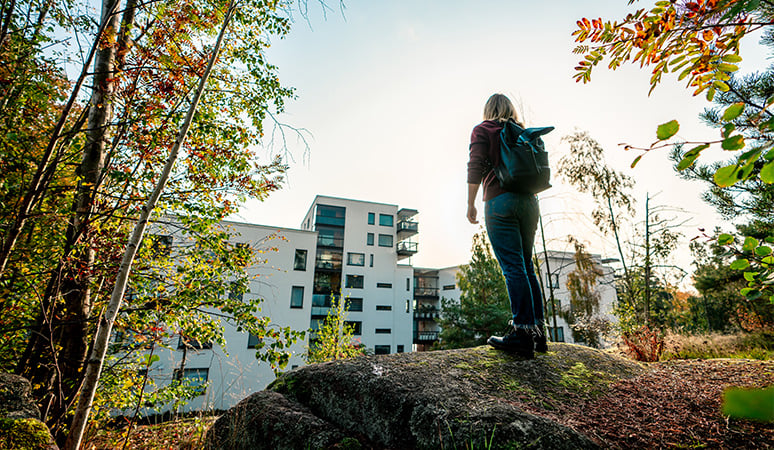 Four reasons to choose Helen's heat recovery service
Cost savings

By utilising waste heat, it is possible for a data center to qualify for a lower electricity tax class, which means that its operational costs will be lower. The costs are also reduced when the current cooling system is only used as an auxiliary system. In addition to these, extra income can be gained by selling heat to us.

Carbon footprint is reduced

We enable carbon-neutral cooling and utilisation of waste heat by data centers with Helen's energy platform. That way, data centers support the carbon neutrality targets and take part in the building of a environmentally friendly future.

A reliable partner

Helen is the world's most reliable energy platform provider with more than 100 years' experience. Our reliability is proven by the fact that, on average, there is a power cut in Helsinki once every 10 years, lasting for half an hour. We enable improved operational reliability of data centers with an underground electricity network. Fibre connections can also utilise the extensive network of tunnels.

Central location in the capital

The central location of the data centers enables the supply of waste heat for the needs of the growing capital of Finland. Due to its excellent transport links and professional workforce, Helsinki is a first-class location for data centers.
1. Heat recovery from data centers
Data centers consume electricity, which produces heat. Helen makes it possible for all waste heat produced to be recovered and utilised.
2. Waste heat is transferred to the energy platform
On the energy platform, heat is transmitted onward from the data centers with the aid of heat pumps.
3. Waste heat is utilised
The heat collected from data centers heats the homes of Helsinki residents in a carbon-neutral way.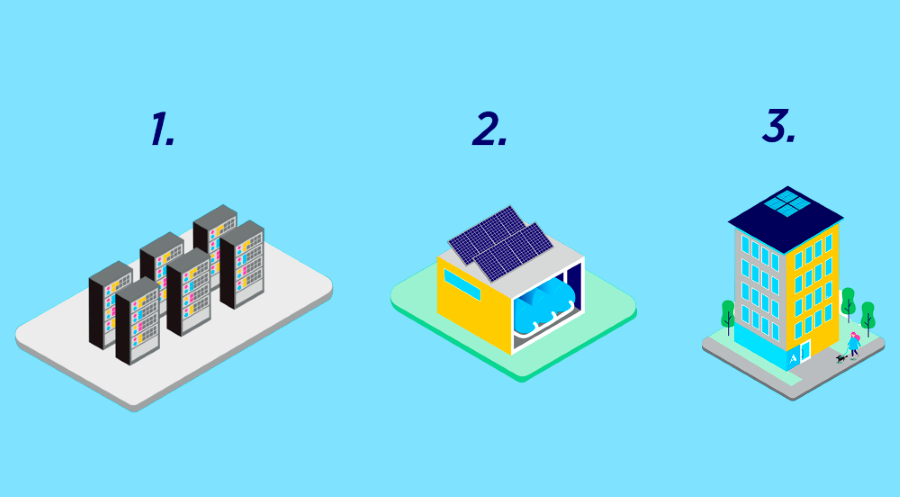 Waste heat from Telia's data center will soon heat homes in Helsinki
Telia Helsinki Data Center is the largest open data center in the Nordic countries. From the beginning it has been designed with energy efficiency and sustainable development in mind. Helen has been a partner in the center's energy matters since its inception.
As the result of the project, the waste heat diverted to the district heating network will heat the homes of more than 20,000 Helsinki residents in the future.
Further information
​

​
Helsinki Partners helps data centers to become established in the Helsinki region.

​

​

​Suitable premises for data centers can be found with the map service of Business Finland. There are several different types available in Helsinki.